Are you interested in what does a medical cleaner do? Possibly looking for professional cleaning services to help with medical office cleaning or medical facility cleaning? Are you concerned about the spread of healthcare associated infections? Do you want to make sure that your medical equipment is always in great shape? A medical cleaner can help you keep your medical office a healthy environment for your patients and staff.
What Is A Medical Cleaner?
Medical cleaners or hospital cleaners are cleaning professionals who specialize in cleaning medical facilities and healthcare facilities. They are knowledgeable about the best ways to clean medical equipment found in healthcare facilities. Additionally, they use cleaning equipment, cleaning chemicals and processes that go beyond what is needed for a normal office building. Therefore, they have extensive training in health and occupational safety.
What Does A Medical Cleaner Do?
Firstly, they keep your medical office or healthcare facility by providing hospital cleaning services. In other words, they help to remove any germs, bacteria or viruses that may be present. Above all, they do this through cleaning and disinfecting. As a result, this helps prevent the spread of healthcare associated infections.
For example, they help you with:
Infection prevention
Patient environment improvement
Patient satisfaction
Risk reduction
Compliance of medical cleaning standards
Common Areas Cleaned By Medical Facility Cleaning Services
For instance, areas they clean include:
Exam & Surgery Rooms
Patient Rooms
Medical Offices
Reception Areas or Waiting Rooms
Conference & Training Room
Break Room, Kitchen
Restrooms
Exterior Cleaning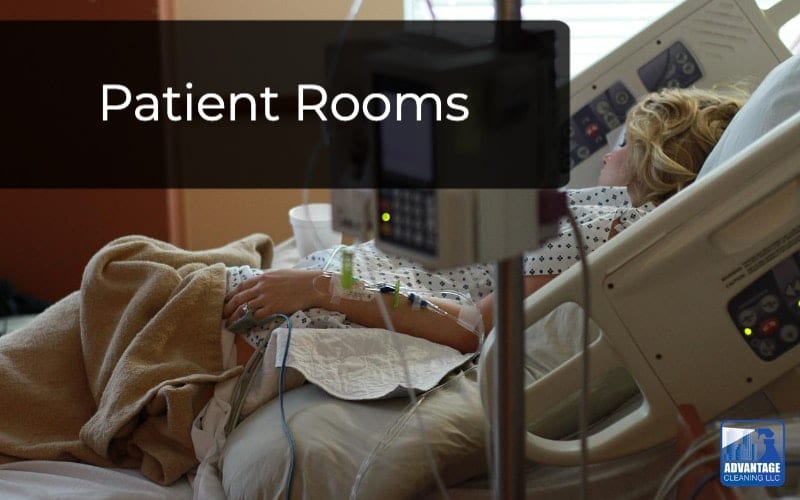 Cleaning Services Medical Facility Cleaners Provide
Daily cleaning tasks:
Emptying trash cans and replacing liners as needed while disposing of medical waste correctly
Dusting high up areas

For example: vents, lights, corners, blinds, items on walls.

Dusting flat surfaces

For instance: tables, file cabinets, sills, horizontal surfaces, chair & table legs, desks, and cabinets.

Getting down low to dust chair legs, table legs and baseboards
Cleaning and sanitizing high touch areas

For example: countertops, sinks, telephones, light switches, door knobs and push plates.

Replacing burnt out light bulbs.
Filling hand soap, toilet tissue, hand towel dispensers, sanitary napkin dispensers
In bathrooms, cleaning, sanitizing and polishing

For example, countertops, sinks, toilets, urinals, door knobs, push plates, light switches, door kick plates, chrome fixtures, stainless steel dispensers and grab bars

Sanitizing common use items

For instance: drinking fountains, filtered water units, vending machines, ovens, stoves, refrigerators and dishwashers.

Sweeping, vacuuming and damp mopping floors
Vacuuming hard floors
Mopping hard floors
Wiping down and straightening chairs and tables.
Spot cleaning outside of cabinets
Specialized cleaning tasks:
Deep Cleaning
Window Cleaning
How Does A Medical Cleaner Do This?
Hospital cleaners are not like an office cleaner, they are specially trained in disease control from leading national commercial cleaning organizations like OSHA and BSCAI. As a result, their cleaning services strictly maintain the health safety guidelines and standards set by these governing agencies: 
They are prepared to support healthcare facilities with medical cleaning.
In the same vein of protecting staff and patients from bloodborne pathogens with a safe environment, medical cleaners are trained in protecting themselves. Firstly, to protect themselves against bloodborne pathogens.
Secondly, they are trained to protect themselves from injury. For instance, sharps injuries and ergonomic injuries like slips or falls. In addition, having an increased knowledge of hazardous chemicals and the use of PPE.
Firstly, medical cleaners use specialized cleaning equipment to eliminate and reduce the spread of germs, bacteria and viruses. For example, they use dedicated equipment for specific areas to avoid cross contamination through color coding.
Secondly, it cleans areas that are difficult to reach with regular cleaning. For instance, hard-to-reach carpeting, upholstery, and tight spaces. Similarly, it is used to clean medical devices and other sensitive items. As a result, they use a variety of methods to clean these areas, including steam, disinfectants, and pressure washers.
For instance, here are a few items they use:
Color coded cleaning tools
Charge buckets
Hospital grade disinfectants
Broad spectrum cleaners
Personal Protective Equipment (PPE)
Electrostatic sprayers
Floor buffers
Ladders
Insurance is essential for protecting a medical cleaner and their clients from the risks of cleaning. Certainly, factors may vary to know what insurances are needed. For instance, company size, revenue and client contract types.
Here are some common policies they will have:
General liability insurance
Business owner's policy (BOP)
Commercial auto insurance
Workers' compensation
Bonds
Commercial umbrella insurance
In Conclusion
If you are looking for a professional medical office cleaning service to help with your medical office cleaning, healthcare facility, or hospital, you may want to consider hiring a commercial cleaning company that provides specialized medical office cleaning services.
In conclusion, by having a medical cleaner contracted, you can expect that your medical office is always a healthy place for patients and staff. But, prices vary on the type of cleaner that you are looking for or where you are located. So, request an in-person estimate before contracting with a medical cleaning company. Certainly, this will give you an accurate sense of the costs involved.
Was this helpful?
Please give us a shout out if you found this helpful or if your have input that would explain 'what does a medical cleaner do' even better.