Event cleaning is hard work, but by following our simple tips, you can make the process as efficient as possible. You may not be able to control everything that happens, and that can lead to a lot of mess. This article is designed to guide you through the pre event, live event and post event activities that are easily overlooked.
Here are some tips on how to clean up after an event:
Have an Event Cleaning Team
Event cleaning can be a daunting task, but with the help of a team of professional cleaners, it can be manageable and even fun. Having an event cleaning team on hand can streamline the process and make sure that everything is taken care of properly. From setting up staging areas to cleaning up after the event, a professional cleaning company can handle your cleaning services quickly and efficiently.
Designate the leader of the cleaning team
Large event cleanup is a time-consuming task that requires the coordination of multiple team members. One leader should be designated to oversee the entire process and ensure that all tasks are completed in a timely manner. This individual should be responsible for communicating with team members, setting priorities, and ensuring that all debris is removed.
Provide food, drinks and rest time for your cleaning team
It is important to provide food, drinks and rest time for your cleaning team in order to keep them energized and productive. This will help them clean more effectively and avoid injury. Providing food and drinks will also keep the team morale high, which will help them work even harder.
Don't overload your cleaning team with other duties
Post event cleaning can be a time-consuming and tedious task going late into the night. Cleaning staff can quickly become overwhelmed if they are asked to clean up after events while also performing other duties. It is important to either assign specific event cleaning staff or designate certain areas of the venue where these duties will take place. This way, everyone is aware of their responsibilities and can focus on fulfilling them efficiently.
Event Cleanup Tools and Equipment
Bin bags (heavy-duty and biodegradable)
Paper towels
Cleaning cloths
General purpose cleaner
Glass cleaner
Carpet/upholstery cleaner
Gloves
Floor sweepers
Vacuums
Floor Mops and buckets
Brooms and dustpans
You can get cleaning supplies online or find a local distributor.
Steps For Event Cleaning: Before, During And After Your Event
Time to make your event cleaning plan. Clean before, during and after your event to avoid any potential disruptions or problems. Make sure to clean up any food or beverage spills, remove all signage and decorations, and clean any equipment used during the event. Follow these simple steps to make your event run smoothly:
Clean before your event:
After pre event set up, clean up and organize all materials that will be needed for breaking down the event later.
Wash all surfaces that will come in contact with food or drink thoroughly with soap and water.
Remove all potential contamination, such as pet hair, leaves, dirt, etc.
Make sure to sanitize all cutting surfaces, utensils and hands.
Clean during your event:
It is important to provide food, drinks and rest time for your cleaning team in order to keep them energized and productive. This will help them clean more effectively and avoid injury. Providing food and drinks will also keep the team morale high, which will help them work even harder.
Always be monitoring your event space for spills and removable clutter.
Keep food clean by washing it hands thoroughly before serving and by using a sanitizing dishwashing detergent. Make sure to discard any unused food items immediately.
Keep surfaces clean by wiping them down with a damp cloth.
Place garbage bags in strategic areas around the party venue, and make sure to label them clearly.
Avoid overflowing trash by emptying waste containers frequently and properly dispose of all food waste in accordance with local regulations.
Clean after your event:
Wipe down all surfaces to be sure they are clean.
Sanitize any utensils that were used in the event.
Remove all decorations, leftover food and drink, and any other objects that could contaminate the area.
Communicate with Guests
It is important to be clear and concise with your guests about the trash process. Many people may not be familiar with how to properly dispose of their waste during a celebration, so it is important to communicate the details clearly.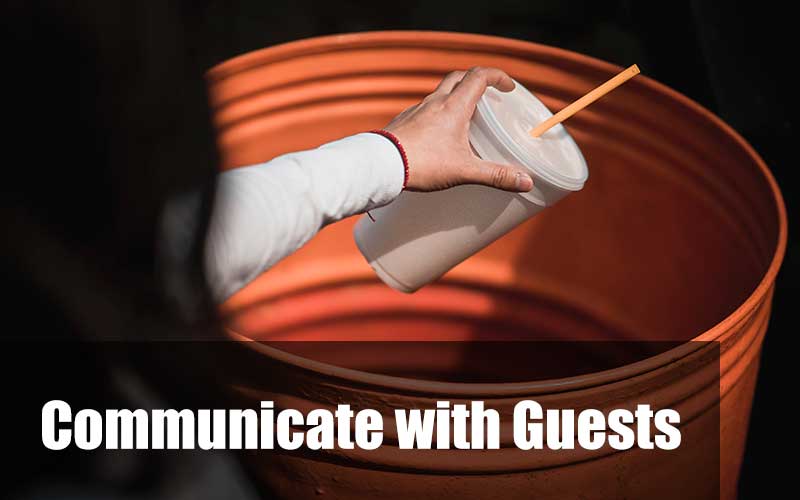 Generally, people want to be helpful and you can leverage that good nature by communicating how they can help. Here's some examples of how communicating with your guests will make your event cleanup smoother.
What should they do with their trash? Do guests need to throw away their own trash or will there be staff coming by frequently?
Where are the trash cans located?
Are there recycling bins?
What should they do if a spill occurs?
Do you welcome guests to take home any decorations they like?
More Tips for Making Cleanup Easy
Follow the event cleaning guidelines
Before the event even begins, make sure to review the event cleaning guidelines. This will help you set expectations with your guests and ensure that everything is done in a timely manner. Make sure to follow these guidelines to the letter – or your guests may be unhappy with how their event was handled.
Use dry erase boards
One of the most important pieces of equipment during an event is a dry erase board. This can be used for everything from organizing guest bios to keeping track of leftovers. If there's anything you need to remember, put it on the board so that everyone can see it.
Have a plan for leftover food and drinks
If there are any leftover food or drinks, make sure to have a plan for what will be done with them. Will they be refrigerated, frozen, eaten immediately or thrown away?
Having a plan in place will help keep things organized and prevent any potential messes from happening.
Have someone on call for maintenance or issues
Sometimes events can go wrong – and that means that maintenance needs to be called in or issues with the venue must be addressed ASAP. Having someone on call who understands all aspects of event planning can help ensure that everything goes smoothly when things go wrong.
Consider hiring a professional cleaning services company
If you're planning an event and don't have the time or resources to clean up after it, consider hiring a professional cleaning company. They will take care of the dirty work while you focus on the important aspects of your event. Make sure that they specifically provide event cleaning services, cleanup services and will give a free estimate.