Professional Disinfection Company NYC & Tri-State Area
Commercial Disinfection Services NYC
Your commercial disinfection services company in New York City, independently owned and operated. We take pride in our customers' appearance, health, and safety.
Our cleaning and disinfection services are trusted by New York City's retail stores, restaurants, office buildings, attractions, and more.
NYC Disinfection Services
Quality commercial cleaning and disinfection is time consuming, and requires training to ensure that the cleaning and disinfection process is done correctly.
We provide disinfection services for some of our community's most prominent museums, attractions, offices, retail stores, and medical offices in New York City, and New Jersey.
We are trained and certified to conduct the process of electrostatic disinfection, and handling the equipment, such as electrostatic disinfection sprayers, correct application of disinfectants, necessary dwell-time, and safety precautions. We make it easy for you to get the best quality in commercial cleaning and disinfection services in New York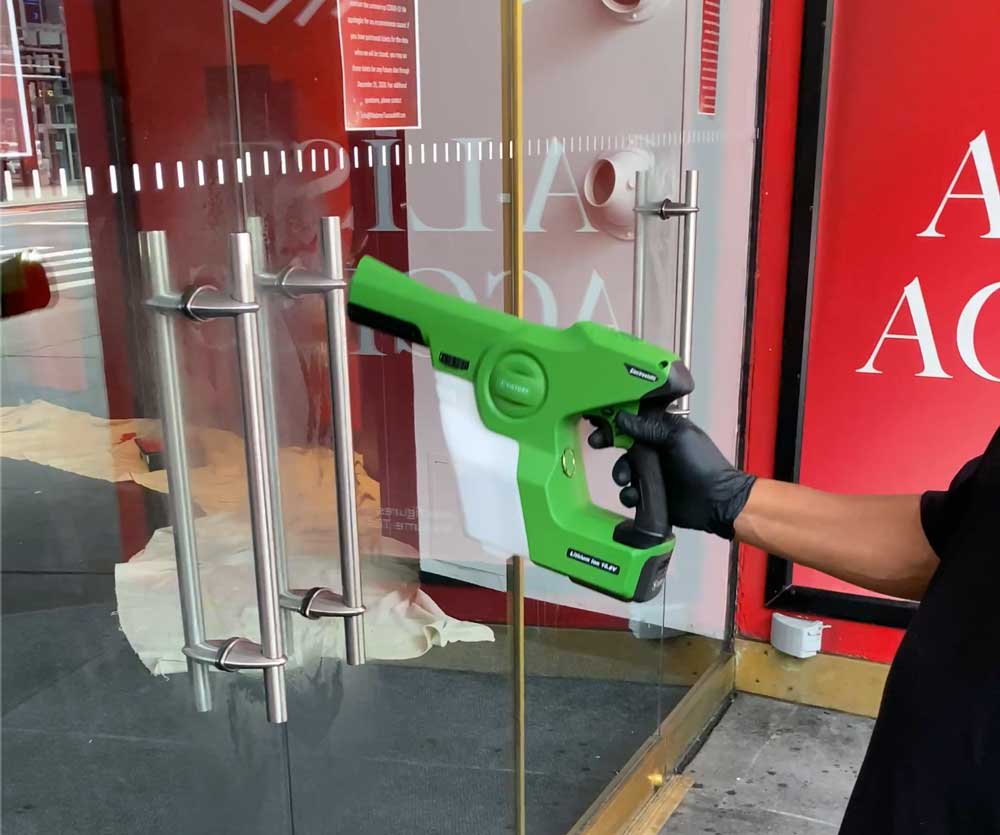 Our Cleaning & Disinfection Services
Cleaning & Disinfection Service
As part of your preventive health and safety measures, we help you eliminate germs, and viruses with scheduled routine cleaning and sanitizing, followed by disinfection of your facilities.
URGENT Cleaning & Disinfection
If you need an urgent disinfection of your facilities because you suspect, or have a confirmed case of a virus occurrence, please call us immediately to schedule a disinfection.
Our Cleaning & Disinfection Services
Our disinfection services mirror the recommendations from the Centers for Disease Control and Prevention (CDC), which strictly recommends a thorough cleaning before disinfection, in order to deliver a satisfactory level of health and safety from germs, and viruses, including COVID-19.
High-Touch Surfaces
Clean, wipe down, and disinfection of all high-touch surfaces, desks, reception area, offices, conference rooms, and common areas.
Floors
All carpets will be thoroughly vacuumed and hard surface floors mopped & scrubbed before general disinfection of all areas in your facility.
Dusting
High dusting of light fixtures, cabinets, window blinds, vents, and other areas that accumulate dust.
Walls
Cleaning the walls, wipe down, polishing all vertical high-touch glass and metal surfaces before disinfection.
Kitchen
Cleaning and sanitizing all high-touch points, including all counter tops, cabinets, tables, chairs, drawers, water fountains, coffee machines, refrigerators, micro wave ovens etc., before final disinfection.
Doors & Panels
Cleaning and sanitizing all doors, door knobs, light switches, operator panels in all areas of the facilities before final disinfection
Offices
Cleaning and disinfection of high-risk contamination areas like desks, monitors, keyboards, chairs, copy machines, printers, phones, and all fixtures through out the offices.
Restrooms
Complete cleaning and sanitizing of restrooms, toilets, partitions, bathroom stalls, kick plates, push plates, doors.
Clean and sanitize, all fixtures within the restroom, such as sinks, dispensers, mirrors, and garbage cans.
Empty garbage cans and replace liners.
Sweeping and moping all floors in all bathrooms
Entrance
Cleaning and sanitizing of all high-touch points in the lobby, including elevator doors, elevator buttons, front desk, carpets, hand-rails, and door handles.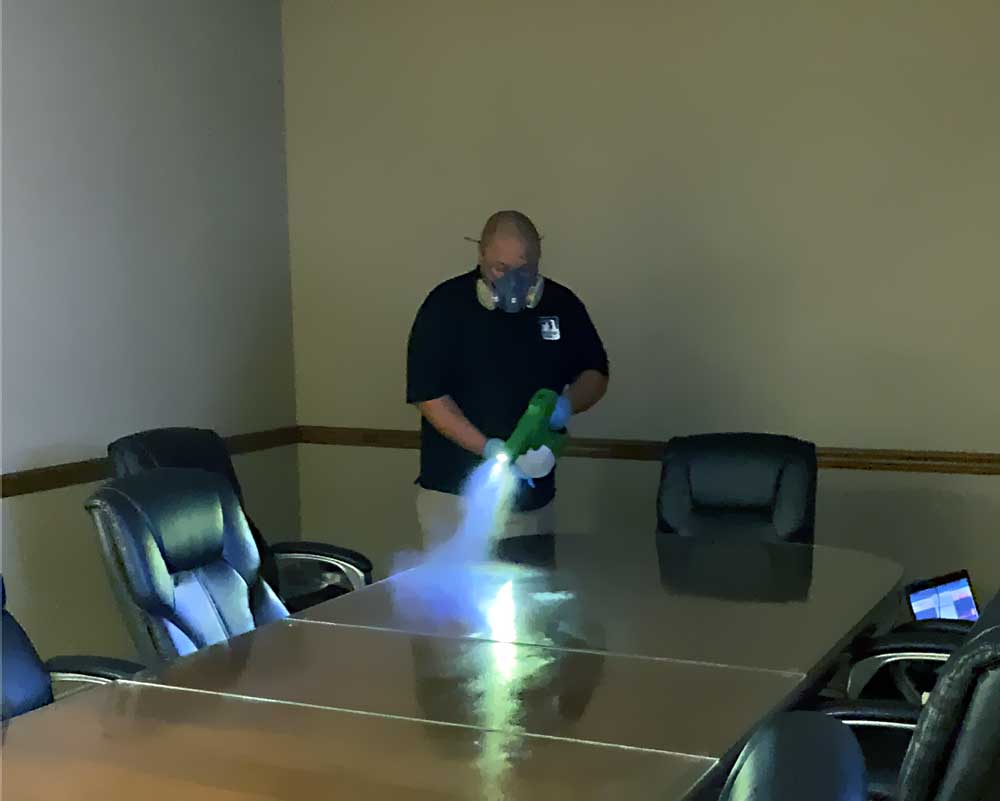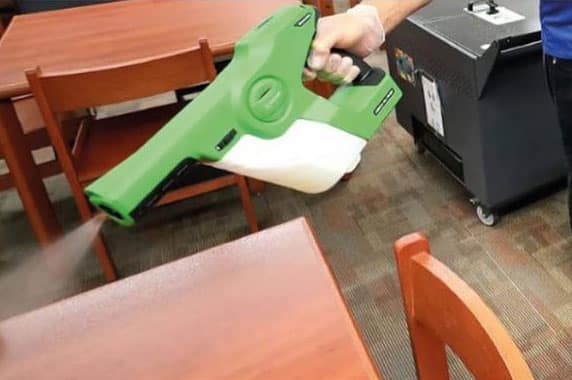 Electrostatic Disinfection Spraying
Following a thorough cleaning, Advantage Cleaning LLC uses electrostatic disinfection sprayer technology, with EPA List N approved chemical agent, to disinfect and eliminate 99% of germs and viruses, including emerging pathogens such as COVID-19.
Disinfection Quality Control
Our Disinfection System
We provide you with a comprehensive schedule disinfection and URGENT disinfection service, with specific check points, to ensure quality in our cleaning and disinfection services. Supported by our cleaning and disinfection system available on our smartphones, we can ensure the best quality to our customers.
Our Quality Control System
The cleaning and disinfection system used by our professionals is also used by our quality inspectors, to ensure the best disinfection quality in our service to you.
Easy Communication
We make it easy for your to communicate with us. All our customers have access to download a smartphone APP to our cleaning system, so you can easily communicate you needs to us.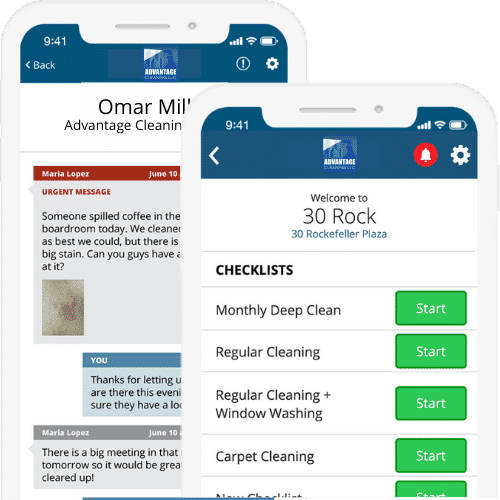 Areas we serve
New York
New Jersey
Conneticut
Massachussets
Pennsylvania
District Columbia
Trained & Certified Disinfection Professionals
Cleaning, sanitizing, and disinfecting services are performed by Advantage Cleaning disinfection professionals who are thoroughly trained in handling electrostatic disinfection sprayers and meeting pathogen-handling standards set by the Occupational Safety & Health Administration (OSHA).
Advantage Cleaning LLC utilizes Fundamentals Training Courses offered by the Global Bio-risk Advisory Council related to cleaning and disinfection services.
The focus is on applying preventative, response, infection control, and contamination control measures to known or infectious disease risk situations, which includes—SARS & Co-V-2.
Let's talk about Cleaning your facilities
Contact us for a free on-site walk-through and estimate that includes a detailed cleaning plan and time frame for your commercial facilities store or attraction.
Got a question?
Give us a quick call
Omar Miller, CEO
What Our Customers About Us
Read what our customers have to say about our commercial cleaning services.




Slide 1
"Omar and team have supported me through two companies I worked for. They are prompt, professional and do a thorough job each time they clean. It made perfect sense when I moved on to a bigger retail company to ask if they would work with me again. In business its always a comfort to know a business you rely on to keep your space spotless never lets you down."
ANNA LEE BASSANI MENA, Vivienne Westwood
Slide 1
"Advantage Cleaning, great team and very effective cleaning standards. My flagship store need quick assistance to prepare for our store opening. This team not only upheld safety standards but they thoroughly deep cleaned our Fifth Avenue retail location to the highest standard of cleanliness.
I personally and professionally thank this team for their work and dedication. I will be using them from here on out."
Slide 1
"Advantage cleaning is all you are looking for: very professional, very efficient, amazing communication. Always perfectly cleaned when they come. Big Thank you to the CEO Omar Miller who is always trying to help and make sure everything is perfect. Much recommended to any business looking for a cleaning company Jonathan (Ladurée US)"
JONATHAN CAMARGO, Laduree Restaurant
Slide 1
""I am the Facilities Manager at Madame Tussauds Wax Museum in New York and have been with my company for twenty years. I can honestly say that in my twenty years' experience, Advantage Cleaning is by far the best cleaning company I have ever worked with. They are a dedicated team that show up on time and when they are in the attraction, they pay attention to all the little details. They do such a great job here at our attraction that if given the choice to have the cleaning crew become an in-house internal team, I would refuse because of how good a job they do. They are reliable, trustworthy, and deviated to their jobs and it really shows. I highly recommend Advantage Cleaning LLC to anyone who is seriously considering hiring outside cleaning services, and I can say with experience that you will not be disappointed."
What Is Electrostatic Disinfection?
Electrostatic disinfection requires a specialized sprayer designed for the maximum disinfecting coverage possible. Electrostatic sprayers combine the disinfectant solution with air and an electrode to give it an electric charge.
When the solution is charged, it's sprayed onto the surfaces of the office such as desks, tables, chairs, door handles and countertops. The positively charged disinfectant bonds with any negatively charged surface. This makes the disinfectant coat evenly, killing all pathogens on the surfaces.
How It Works
Electrodes create an attractive charge to the solution
Compressed air creates a quiet, powerful liquid flow
Charged particles are attracted to surfaces
Solution reaches and wraps around surfaces
Each surface is uniformly coated with solution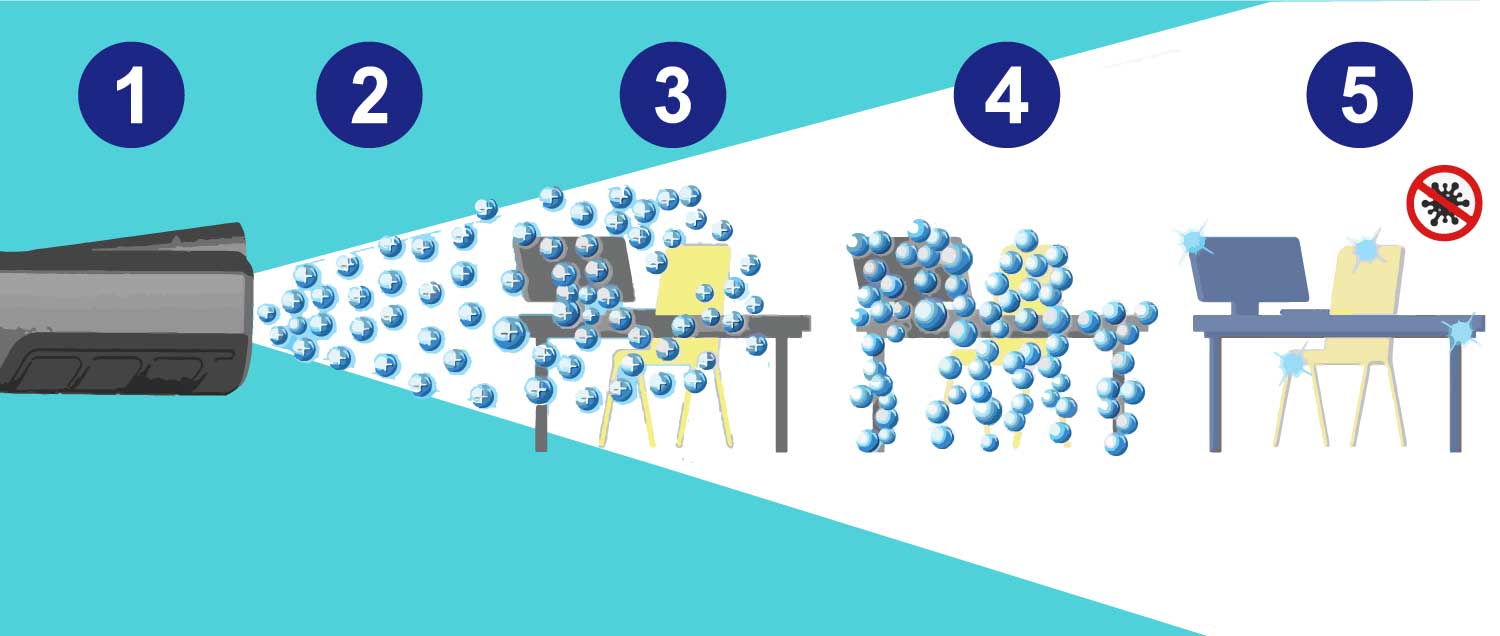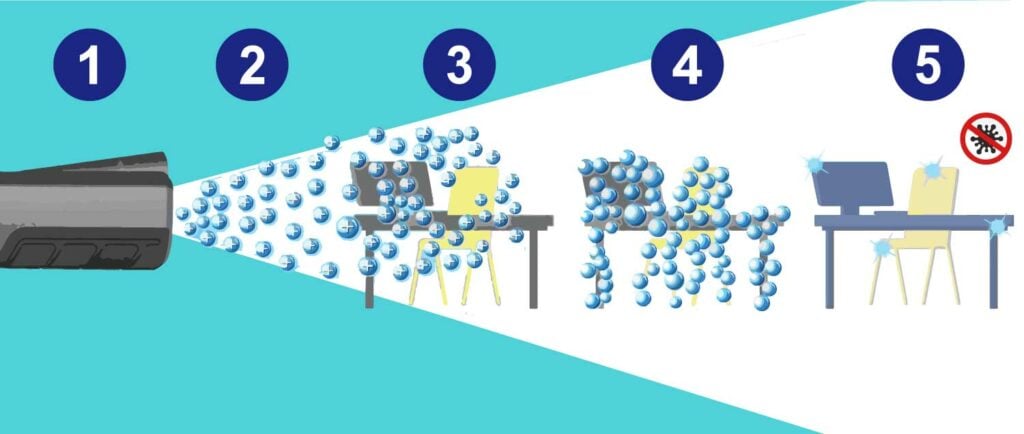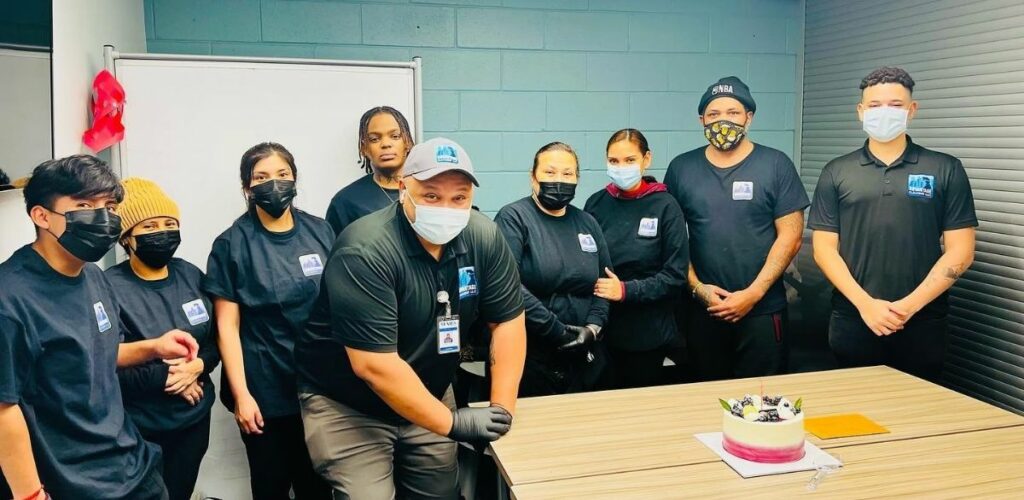 The cleaning service industry worldwide has grown at a very fast rate, reaching more than $80…
Frequently Asked Questions
Why are deep cleaning, sanitizing, and disinfecting more important than ever?
The Centers For Disease Control and Prevention (CDC) recommends that businesses use processes like deep cleaning, sanitizing, and disinfection to prepare their facilities for safe re-opening. But beyond that—whether operations did or did not close during the pandemic—continuing to deep clean, sanitize, and disinfect premises on a regular schedule going forward will be critical in order for companies to meet the growing expectations of customers and employees alike. Businesses that regularly deep clean, sanitize, and disinfect their facilities have a far better chance of meeting consumers' and employees' expectations—and of increasing their level of comfort about frequenting or working at these facilities— than those that do not.
How do reputable commercial cleaning companies make certain that their employees can safely deep clean, sanitize, and disinfect clients' facilities?
Reputable companies require their employees to wear personal protective equipment (PPE) as recommended by the CDC. For all Advantage Cleaning LLC employees, this means eyewear with protective sides, as well as gloves, masks, coveralls, and disposable shoe covers (to prevent the transfer of soil, residue, and germs from the bottom of the shoes to the floor).
Training is also a must for commercial cleaning company teams. Advantage Cleaning LLC employees undergo thorough, rigorous training in meeting Hazardous Waste Operations and Emergency Response (HAZWOPER) standards for handling blood-borne and other pathogens encountered during deep cleaning jobs. HAZWOPER standards are set by the Occupational Safety and Health Administration (OSHA), whose mission is to ensure safe, healthful working conditions by setting and enforcing standards as well as by providing training, outreach, education, and assistance. Advantage Cleaning LLC Founder and CEO Omar Miller has also completed the Online Fundamentals Training Course offered by the Global Biorisk Advisory Council, which focuses on preventative, response, infection control, and contamination control measures to known or infectious disease risk situations. Significant emphasis in the course is placed on SARS, Co- V-2, and COVID-19.
What is the first step in deep cleaning, sanitizing, and disinfecting?
The process starts with "lifting" all soil and residue from high-touch surfaces, such as doorknobs, cabinet knobs, computer keyboards, faucets, toilet-flushing apparatus, and many others. This step is important because dirt, dust, and oil, act as barriers between these surfaces and any sanitizing agents used. When these barriers are present, the disinfectants cannot effectively destroy or inactivate the microorganisms deep cleaning, sanitizing, and disinfecting are meant to eliminate.
Advantage Cleaning LLC utilizes a sanitizing agent that has been approved by the Environmental Protection Agency (EPA). This agent effectively removes soil and residue, without damaging the surfaces themselves.
What happens once high-touch surfaces are free of all residue?
Disinfectant is applied using a technique called electrostatic spraying. Particles of disinfectant discharged by the sprayer contain enough moisture to "wrap around" surfaces, even reaching areas that are often missed during routine cleaning. The disinfectant is not wiped off and properly decontaminates and sanitizes surfaces in one minute.
In addition to its "wraparound" capabilities, electrostatic spraying offers many advantages over other ways to apply disinfectant. For starters, most surfaces are neutral or negative. Electrostatic spraying imparts a powerful positive charge on the disinfectant as it leaves the spray nozzle, making it more easily attracted and adhesive to surfaces. The end-result is more consistent coverage with less waste. What's more, electrostatic spraying is not only more effective than wiping; it is 50 times faster as well as 10 times quicker than electric spraying. About 54,000 square feet of surfaces of varying sizes, including hard-to-reach surfaces, can be disinfected and sanitized in one hour when electrostatic spraying is used.
How can companies ensure that the right disinfectants are being used to deep clean their facilities?
According to the EPA, disinfectants are antimicrobial pesticides that destroy or irreversibly inactivate microorganisms on surfaces and objects. Disinfectants come in two categories, hospital-grade products used for infection control and general use products for household applications. Advantage Cleaning LLC insists on hospital-grade disinfectants. The EPA maintains a list of chemicals deemed effective against "emerging pathogens"—namely, the coronavirus that causes COVID-19 as well as other newer viruses that are difficult to kill. The list is called "List N: Disinfectants for Use Against SARS-CoV-2," and Advantage Cleaning LLC uses only "List N" chemicals, all of which display an "EPA Emerging Pathogen" disclosure or badge on their label.

What follow-up care is recommended once disinfecting, sanitizing and deep cleaning have been completed?
Regular cleaning of facilities via routine disinfection services has always been important and is even more so in the wake of the COVID-19 pandemic. This type of cleaning should occur daily, weekly, bi-monthly, or monthly, depending on the volume of foot traffic (both employee and visitor). Advantage Cleaning LLC offers a choice of daily, weekly, bi-monthly, and monthly cleaning and disinfection service options and works with individual customers to help determine which schedule best suits their needs.
What is the difference between cleaning and sanitizing? (Cleaning vs Sanitizing)
Cleaning removes germs, dirt, and impurities from surfaces to lower the amount of germs and reduce the risk of spreading infection. The cleaning process involves the use of using soap and water to physically reduce the number of germs from surfaces but does not kill the germs.

Sanitizing lowers the number of germs on surfaces or objects to a safe level, and is most effective when done after the surfaces have been cleaned with soap and water. This process involves either cleaning or disinfecting the surfaces to effectively lower the risk of spreading infection.

Disinfecting kills germs. Disinfecting works by applying chemicals, using an electrostatic sprayer or cloth, to kill germs on surfaces or objects. The disinfection chemicals works best when done after the surfaces have been cleaned as it does not remove impurities but very effective for killing germs.