Cleaning services for property managers – whether it's keeping the property cleaned and maintained by an internal staff or a contracted cleaning company, a property manager can use a cleaning checklist to make sure everything gets cleaned properly. It's as useful as a move out inspection. A cleaning checklist helps communicate the specific details of each area within a property, what cleaning products to use, cleaning equipment and even when to deep clean. It's also a great tool for accountability through auditing cleaning tasks on a routine basis.
Tenant Areas
A tenant area is the rent-able square feet portion of rental properties where a tenant normally houses personnel, equipment, fixtures, furniture, merchandise, storage and/or supplies. Generally, this area is maintained by the tenant on a regular basis and only cleaned by property management once there is tenant move out or vacancy.
Property managers will perform a move out inspection and use the security deposit to pay a cleaning service and small repairs, depending on the lease agreement. However, there are exceptions where tenants pay for cleaning services provided by property management.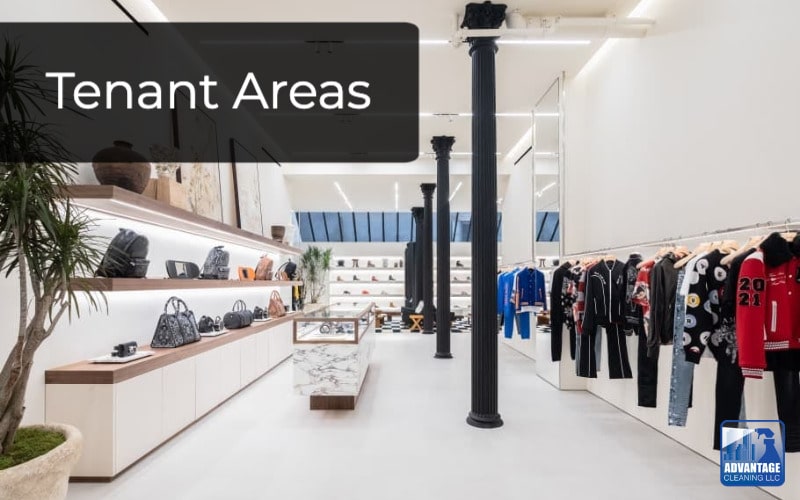 Nightly Cleaning Checklist
FLOOR MAINTENANCE
Broom clean hardwood floors and spot wash dirt affected areas
Remove all chewing gum on floor with special attention to be given to corners and hard-to-reach areas.
DUSTING & CLEANING
Clean stove, microwave oven
Keep the refrigerator clean
Dispose of leftover food not properly stored
Clean dining room, laundry room
Replace light bulbs when needed
Periodic Cleaning Checklist
FLOOR MAINTENANCE
Stripping and waxing floors
Carpet cleaning
Polish Floor
Burnish Floor
Clean Ceramic Tile and Grout
Strip and Wax Floor
Scrub and Re-coat Floor
Clean Ceramic Tile and Grout
Seal Grout Lines
Clean and Seal Stone Floor
DUSTING & CLEANING
Wiping down all desks (ask employees to remove everything from the surface)
Cleaning and sanitizing all computer keyboards, screen and other computer equipment
Dusting & wiping blinds and ceiling fans
Scrubbing baseboards
Cleaning garbage disposal
Sweeping, vacuuming and mopping floors underneath furniture
Cleaning windows (inside and outside)
High Dust (Vents, Lights, Corners, Blinds, Items on Walls)
Keep vacant spaces move in ready
Remember: If taking on these cleaning tasks internally is becoming overwhelming, you can always hire a professional cleaning service to do the job.
Here's an article on How to Choose the Right Property Management Cleaning Services for Your Needs. You can also request a free estimate from us.
General Cleaning: Restrooms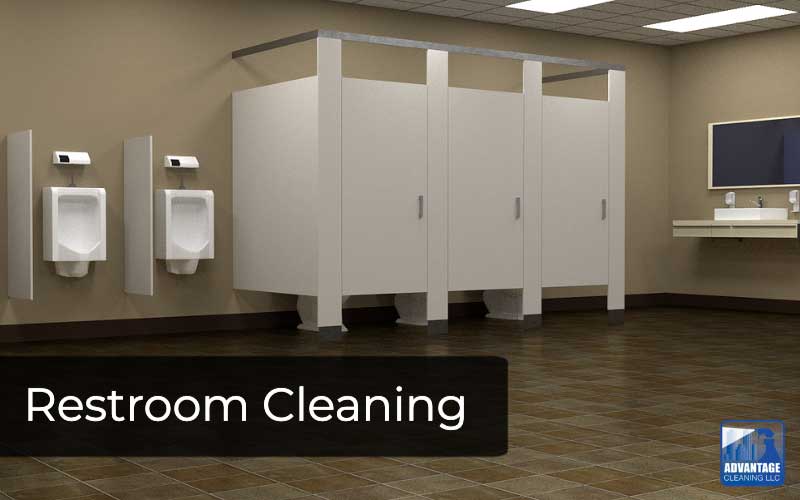 To avoid spreading germs and bacteria, use dedicated cleaning products and cleaning supplies for restroom cleaning. This is not just the toilet brush, we're referring to all mops, mop buckets, broom, cleaning cloths, and keep them in their own storage area.
Nightly Cleaning Checklist
Sweep and wet mop or scrub floor with a cleanser-disinfectant. Surfaces shall be dry and the corners clean.
Disinfect light switches
Clean, disinfect and polish all surfaces of fixtures, including toilets, urinals, wash basins, commodes, etc. All plumbing fixtures and bright work shall be wiped clean.
Clean and polish all mirrors, shower doors and glass doors to remove all stains, streaks and smudges.
Spot clean doors, walls and partitions to remove dirt, dust and stains.
Wipe clean all dispensers and replenish as necessary, including liquid hand soap, disinfectant, toilet tissue, feminine supplies, paper towels and seat covers.
Empty trash cans and replace liners.
Damp mop all hard and resilient floors.
Empty, clean and disinfect all receptacles used for the collection of solid waste. Replace liners as necessary.
Periodic Cleaning Checklist
Weekly
Dust light fixtures, ceiling fans and vents.
Monthly
Damp wipe and disinfect the full surface areas of all rest room walls, doors, windows, counter tops, window frames, sills, vents and waste paper receptacles, mirrors and glass, etc.
To prevent stains and encrustation and any resulting odor from forming in the water closets and urinals, disinfectant germicidal cleaner shall be used every thirty days.
Quarterly
Machine scrubbing restroom floors (helps eliminate urine smell)
Redoing of caulk around the toilets and sinks
Washing trash receptacles (Replace Liners)
Sinks, Countertops, Toilets, Urinals (Clean, Sanitize, Polish)
Glass, Mirrors, Chrome (Clean, Polish)
Dispensers: Soap, Tissue, Towels (Fill, Clean, Sanitize)
Partitions (Sanitize, Dust)
Clean Walls and Doors (Sanitize)
Door Handles, Light Switches (Sanitize)
Yearly
All traps and floor drains shall be treated with a bacterial type chemical until the traps are completely free of odor.
As Needed
Report items in need of repair, e.g., inoperative light bulbs, broken windows and doors, leaking sinks, urinals, commodes, broken light fixtures, etc.
General Cleaning: Hallways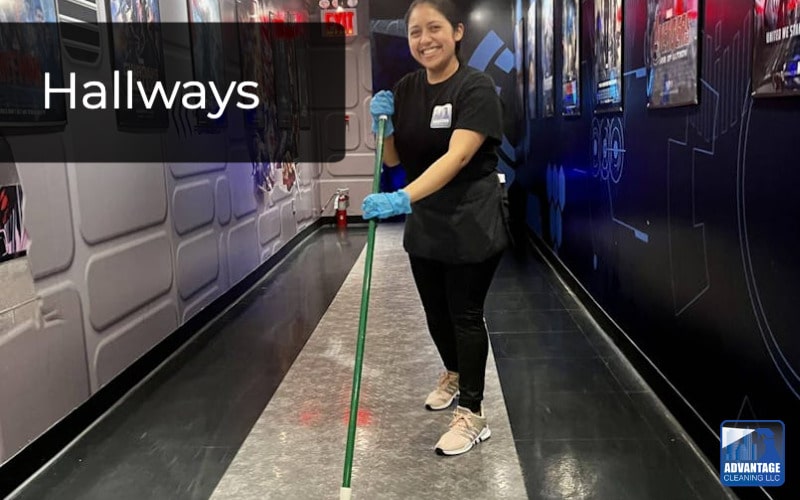 Nightly Cleaning Checklist
Clean and disinfect drinking fountains including the outside and remove encrustation from the drain screen and bubbler.
Empty waste baskets and remove trash to designated disposal areas.
Remove any clutter or leftover materials
Spot clean walls and doors to remove all marks, and dust surfaces within 84″ of the floor.
Damp mop all hard and resilient floors.
Clean and disinfect doorknobs, push bars, kick plates, railings, seats, elevator doors, and other bright metal surfaces.
General Cleaning: Lobby Area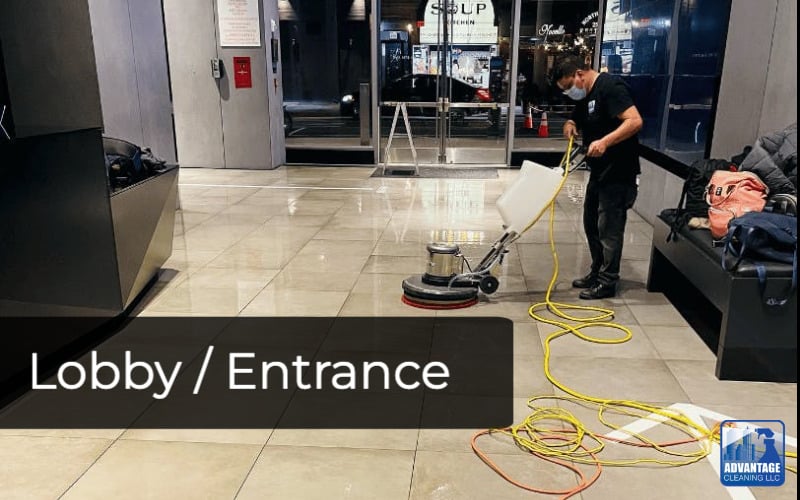 Nightly Cleaning Checklist
Clean glass on front door
Clean/disinfect door handles and light switches
Sweep non carpeted floors
Replace trash can liners
Vacuum carpets
Dust and wipe down door frames and window frames
Dust and clean shelves
Dust and clean furniture, light fixtures, ceiling fans and decor
Clean displays and cabinets and drawers
Remove personal items
Periodic Cleaning Checklist
Weekly
Monthly
Test smoke alarms
Dusting & Wiping blinds
Scrubbing baseboards
Sweeping, vacuuming and mopping floors underneath furniture
Wipe outlet covers
General Cleaning: Elevators and Stairwells
Nightly Cleaning Checklist
Pick up trash
Dust and polish ledges, railings, banisters, and fixtures
Clean any glass surfaces
Sweep and mop or vacuum stairs and landings
General Cleaning: Exterior Walks & Entrances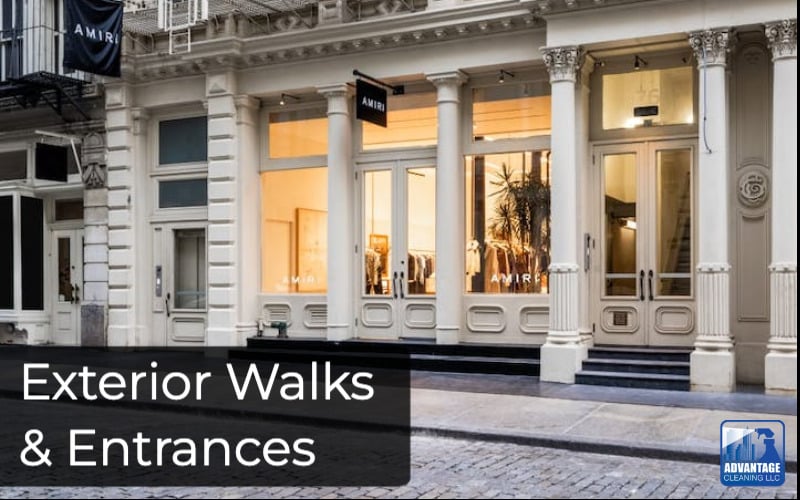 Making sure outdoor areas are clear of dirt will reduce tracking it into the building when guests depart or enter. This can save time for inside cleaning along with keeping a great appearance of the exterior.
Nightly Cleaning Checklist
Clean/disinfect door handles
Clean signage around the doorway
Empty exterior trash cans
Clean exterior planters, benches, trash cans, etc.
Pick up litter
Remove cobwebs from the entryway
Vacuum or sweep entryway and doormats
Clean exterior doors around entrance doors
Quarterly
Remove cobwebs from window screens, window tracks and window sills
Yearly
Shower walls of exterior with soap, sodium hypochlorite and water to kill mold, mildew and renew appearance
General Cleaning: Below Ground Parking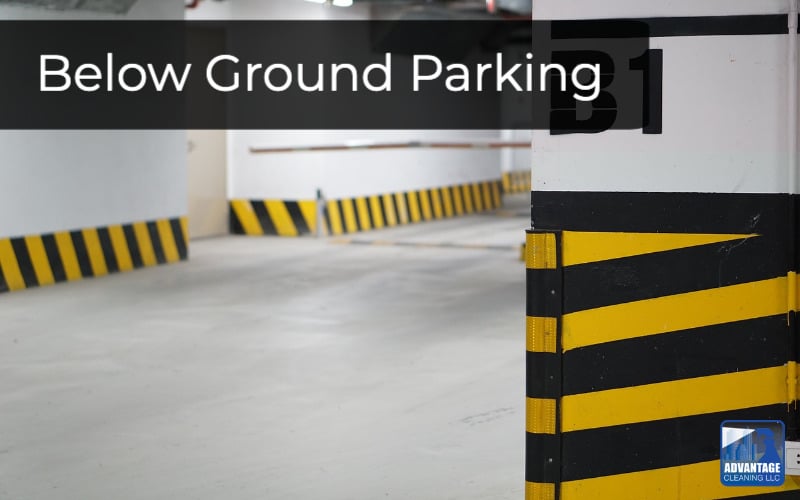 Nightly Cleaning Checklist
Sweep and/or mop clean all stairwells
Wipe clean handrails, fire extinguishers, and other mechanical equipment once each week or at the direction of Building Management.
Periodic Cleaning Checklist
Quarterly
Power sweep entire garage, including garage entrance area once every four months.
Yearly
Hose down and squeegee entire garage area two times each year
Light fixture lenses to be washed and dried annually.