Retail cleaning can be a daunting task. Customers expect a well organized, clean, safe retail environment. It's important to have a retail store cleaning checklist to help you stay organized and ensure that all of the areas of the store are clean.
When it comes to retail store cleaning, there are a few key areas that need to be cleaned on a regular basis. These areas include the
shopping area
entrances/exits, and
the restrooms.
It is also important to have the appropriate cleaning products on hand at all times.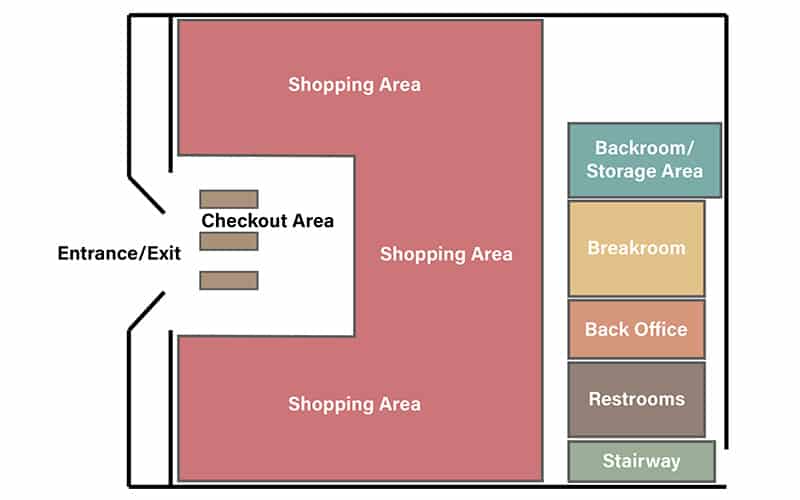 Entrance and Exit Cleaning
When cleaning a retail store, it is important to start with the areas that are most visible to customers. These areas may include the front of the store, entrances, and windows. The entrances/exits should also be kept free of dust and dirt at all times, as dirty windows can deter customers from coming in.
Retail store cleaning checklist for entrance and exit areas:
Clean door and window glass (exterior and interior)
Clean/disinfect door handles
Clean signage around the doorway
Empty exterior trash cans
Clean exterior planters, benches, trash cans, etc.
Pick up litter
Remove cobwebs from the entryway
Vacuum or sweep entryway and doormats
Shopping Area Cleaning
The shopping area should be cleaned every day, as customers will track in dirt and debris from their visits. It is important to remove any litter or abandoned items from this area before the customer arrives so that they have an enjoyable experience when they do enter.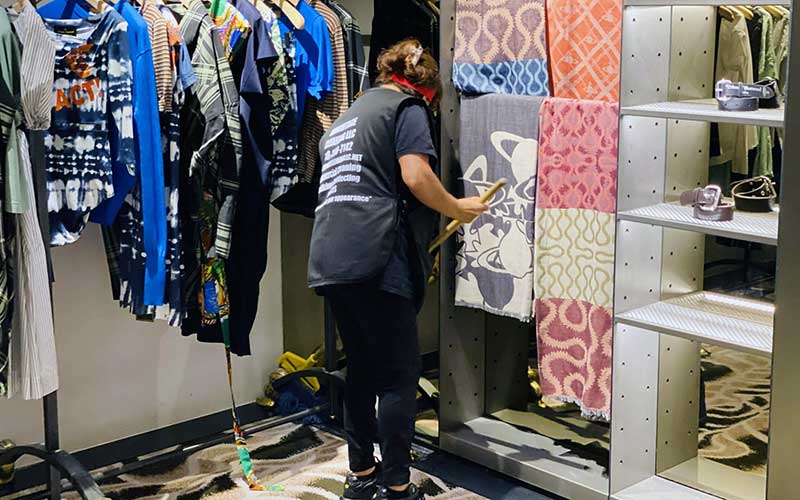 Cleaning checklist for shopping areas:
Dust and clean shelves
Dust and clean furniture, fixtures, and decor
Clean displays and cabinets
Clean all glass surfaces, partitions, and mirrors
Organize merchandise
Pick up and put away misplaced merchandise
Clean spots on carpets, furniture, and walls
Pick up trash
Vacuum soft furniture
Vacuum carpets
Sweep and mop hard floors
Empty trash cans
Checkout Area Cleaning
Retail checkout areas are often very cluttered and dirty. They need to be cleaned regularly to ensure a pleasant shopping experience for customers.
Cleaning checklist for checkout areas:
Dust, clean, and wipe down checkout stands
Clean any glass surfaces
Clean display area
Organize merchandise
Empty trash
Restroom Cleaning
Since the COVID-19 pandemic, it is especially important to avoid the spread of bacteria and illness along with making sure your retail store patrons feel as safe as possible so they continue shopping at your store.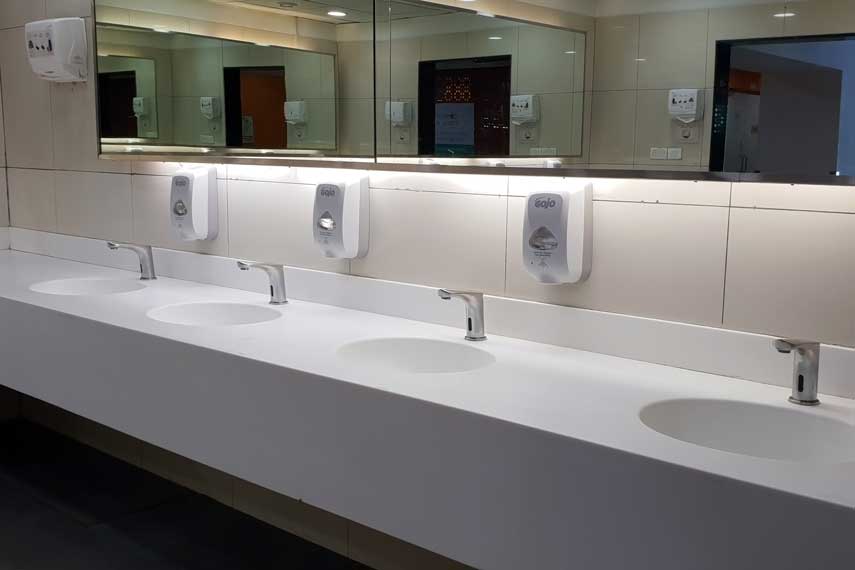 The restrooms should be cleaned every day, as they are often used by a large number of people in a short amount of time. Make sure to remove any debris or stains, and to clean the mirrors and stalls. This will help keep the store looking fresh and clean.
Retail store cleaning checklist for restrooms:
Empty trash
Replenish soap, hand towel dispensers and toilet paper
Clean all sink surfaces, fixtures, and unclog drains
Clean mirrors and glass surfaces
Wipe down backsplash
Clean and disinfect all toilet and urinal surfaces
Clean and disinfect baby changing stations
Wipe down cabinets and closets
Sanitize doors and door knobs
Sweep and mop floor
Stairway Cleaning
Retail stores are often crowded with people and items, which makes it difficult to keep the store clean. Stairs can be a particular challenge, as they often become cluttered with merchandise, boxes, and other objects.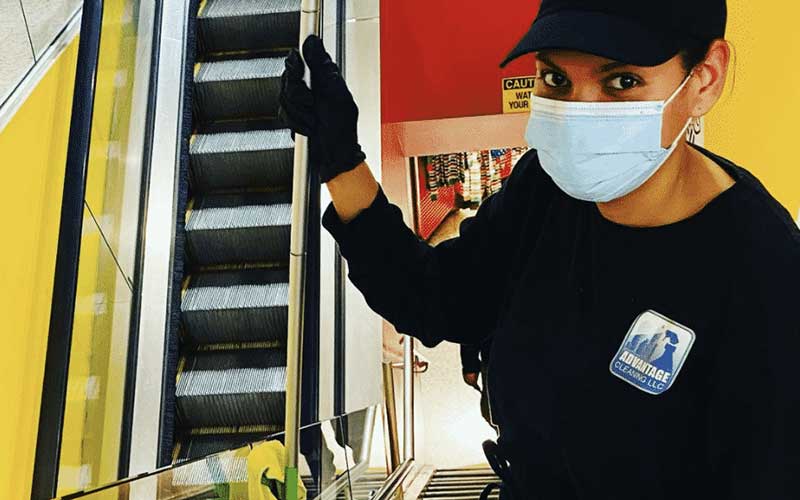 Retail store cleaning checklist for stairways:
Pick up trash
Dust and polish ledges, railings, banisters, and fixtures
Clean any glass surfaces
Sweep and mop or vacuum stairs and landings
Backroom and Storage Area Cleaning
Retail store backroom and storage area cleaning is important to maintain a clean and organized work environment. To clean the backroom, staff needs to sweep, mop, and vacuum. To clean the storage area, staff needs to sweep, dust, and vacuum.
Retail store cleaning checklist for backroom and storage areas:
Pick up trash
Empty trash
Dust shelves, furniture, and fixtures
Clean any windows
Sanitize door handles
Clean air vents
Sweep and mop floors
Back Office Cleaning
Retail stores are often crowded with people and products, which can make the back office a messy and cluttered place. A checklist of items to be cleaned should be created and followed regularly to ensure the back office is kept in order. Regularly cleaning the back office can help reduce chaos and make it easier for the staff to find what they are looking for.
Retail store cleaning checklist for the back office:
Empty trash bins
Clean glass surfaces, including windows and window sills
Dust, wipe, and polish desks, chairs, tables, and counters
Sanitize telephones, light switches and lamps, door handles, and other frequently touched items
Declutter and organize tables and desks
Mop hard floor surfaces
Vacuum carpets and soft furniture
Breakroom Cleaning
The Breakroom is often busy and can become messy quickly. A good cleaning routine for a break room should include: vacuuming, wiping down surfaces with a cloth or mop, and dusting. Items that should be stored in a cabinet or on a shelf should also be dusted and organized.
Retail store cleaning checklist for the breakroom:
Pick up trash
Throw out old refrigerator food
Empty trash cans
Unload dishwasher and put away clean dishes
Load the dishwasher with any dirty dishes and start a cycle
Clear countertops and sinks and sanitize
Wipe down outside of cupboards, drawers, and refrigerators
Clean outsides and insides of microwaves
Wipe and sanitize doors and door handles
Vacuum or sweep and mop floors
Conclusion
In order to give your shoppers the best customer experience, keeping your retail store clean, organized and dust free is important. It should be done at a professional cleaning level. If you are unable to do this with your staff, consider contracting a commercial cleaning company for their cleaning services. Make sure to rotate these tasks so that they are all done periodically in order to keep the store looking its best.