Building maintenance services, aka facility maintenance services, is a type of service that is provided to help keep your building in good condition. Services designed to maintain buildings can include things like cleaning service, repair, and inspection. All are done to assist in smoother operations for a company.
Also, building maintenance includes the regular, necessary tasks that are performed to maintain residential and commercial properties in good condition. This includes cleaning, landscaping, and electrical system maintenance. It is important to preserve a safe environment for tenants at all times so they can feel comfortable and happy in their surroundings.
Building maintenance services include regularly cleaning common areas, removing trash, and minor repairs items that are broken. It can involve inspecting, repairing, and maintaining building systems such as electrical systems, heating and air conditioning (hvac systems), plumbing systems, windows/doors/treatments seals etc.
Additionally, building maintenance includes overseeing the care of outdoor property, such as managing sprinklers, mowing the lawn, building washing, window cleaning, pressure washing walkways and trimming the plants by experienced staff, often referred to as facility maintenance.
Why Is Building Maintenance Important?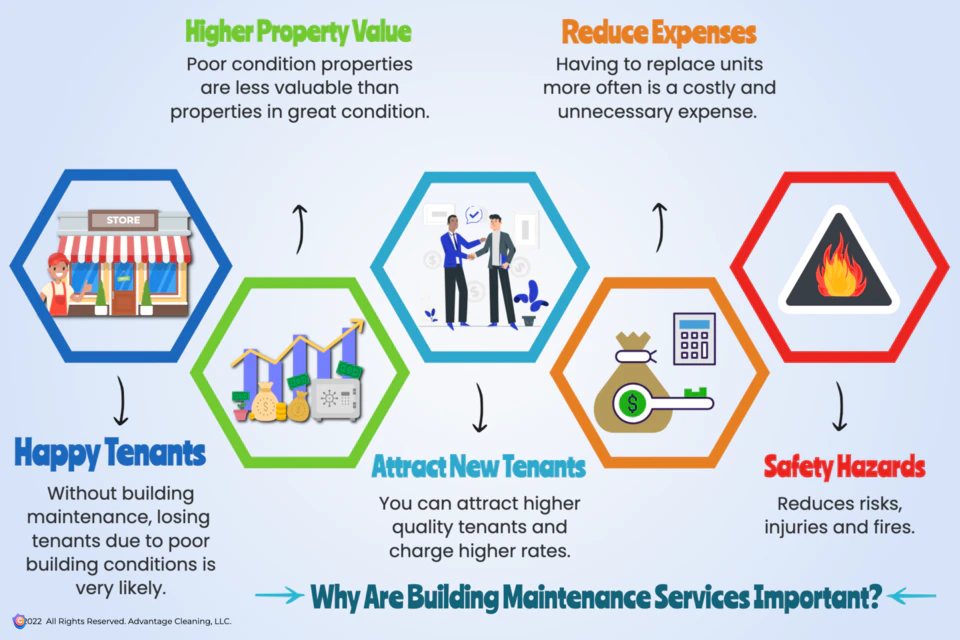 Just like general vehicle maintenance, such as changing the motor oil every few thousand miles, a building requires maintenance services to keep it in as good of a condition as possible.
Without maintenance, many negative things begin to happen and it becomes increasingly difficult and expensive to restore a building to its former glory. Something as simple as clearing debris from gutters will avoid roof damage/leaks, rotting wood and black stains on the exterior facade.
As time goes on, a building will look older than it is, can smell musty or moldy and lose its ability to charge market rates for leases.
Happy Tenants
Tenant complaints, arguing over lease rates and losing tenants due to poor building conditions is very likely when there is poor building maintenance. In office buildings, for example, faulty AC, electrical, deteriorating finishings or plumbing issues can create unhappy tenants and cause reduced occupancy rates. Also, consider that tenants that are willing
Increase Facility Property Value
This benefit is pretty obvious to anyone who has experienced buying or selling a property or watched shows on HGTV. Poor condition properties are less valuable than properties in great condition. With good building maintenance, your property will never fall into a poor condition.
Attract New Tenants
When you don't maintain your building properly, over time it will become very ugly get, smelly and even dangerous. With a pristine building, you reflect high quality standards. You can charge higher rates and attract higher quality tenants.
Reduce Company Costs
Not maintaining HVAC systems properly will cause your system to breakdown sooner than it should, reducing the lifespan of the equipment. Having to replace units more often is a costly and unnecessary expense.
Any cleaning done will always be cheaper to have maintained than it will be to restore it after long periods of neglect. And sadly, some things can never be fully restored to perfect condition, which will require replacement. For example, sunbaked grimy windows, exterior red brick now turned green or black, white bathroom tiles permanently stained.
Avoid Facility Safety Hazards
Electrical issues can cause fires so maintaining electrical systems is crucial. Broken flooring and staircases can cause injuries. Even simple things like burnt out light bulbs can create visibility issues that result in slips, trips and falls. Fire alarms not working is another important life safety example.
How does it work? Types of building maintenance
Routine Maintenance
Facilities require regular maintenance to look their best, keep the environment safe, and meet the purpose they were designed for. Repair personnel inspect facilities regularly to identify problem areas and carry out necessary maintenance after making their assessments.
Routine repairs and maintenance are important to ensure that a structure remains in good condition. Workers in the maintenance department can look for signs of trouble, such as light bulbs that have burnt out, and make a necessary repair or replacement.
In an industrial environment, people who work with machinery and equipment often have a schedule for performing routine maintenance tasks. These can include things like lubricating bearings or refilling hydraulic fluid.
Preventive Maintenance
Preventive maintenance is part of a successful maintenance plan with tasks to help keep the facility equipment and buildings operations in good condition and protect it from damage. These activities also help the building last longer and be more durable. Preventive measures during construction also make sure that the building can withstand storms, floods, or other calamities.
Corrective Maintenance
Corrective maintenance is an important part of ensuring that a building remains operational and comfortable. It's important to have a corrective maintenance strategy in place in order to minimize damage and decay, and keep everything running as smoothly as possible.
Maintenance Service Types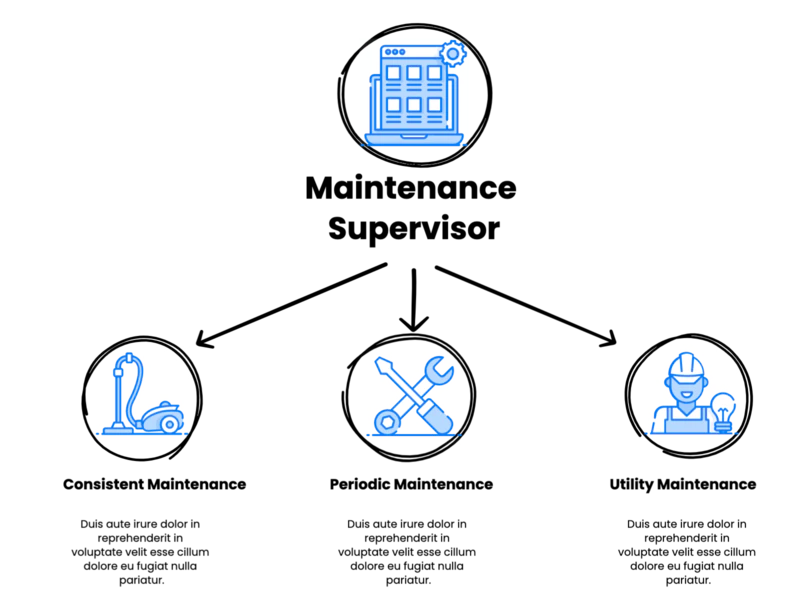 Janitorial Maintenance Professionals
Short Term & Frequent Maintenance
Trash
Sweeping
Mopping
Cleaning Bathrooms
Lawn Care
Long term & Periodic Maintenance:
Things that are done to extend the life of a building's finish and done less frequently such as quarterly, bi-annually or annually.
Pressure washing walkways
Window cleaning
Grout cleaning
Floor waxing and floor buffing
Painting
Wall patching
Note: Depending on the level foot traffic and importance of appearance, some maintenance services will be done more frequently. Such as exterior window cleaning, floor waxing, pressure washing a retail store in New York City.
Utility Maintenance Technician
Electrical, ACHC, Plumbing and other utility services
A maintenance technician will inspect, repair, and keep equipment systems in a facility well maintained such as air conditioning (HVAC systems), electrical distribution, and plumbing. Work orders typically assign tasks and maintenance workers report to supervisors who oversee their jobs. Maintenance technicians perform maintenance tasks as part of their job duties. They must stay stay up to date on industry standards and receive ongoing training.
They may be employees of outside building maintenance companies, providing service for multiple facilities or be part of a professional team within an in house maintenance department.
HVAC Certification: The

National Association of

Home

Builders

and the

Associated

Builders

and Contractors . Apprenticeship programs are available that can help maintenance workers earn HVAC certification. These programs typically last between eight and twelve weeks, and provide students with the necessary skills to work in a maintenance setting.
Building Systems Maintenance Certification: Covers a variety of topics related to plumbing, HVAC systems, water treatment, and efficient energy management. BOMI International awards the certification.
The CMRP assessment is for entry-level workers in the maintenance field. It covers both predictive/preventative maintenance and corrective maintenance.
Maintenance Supervisors
Facility management professionals or a maintenance supervisor, oversee building maintenance for all facilities of a company location, the building systems, building maintenance workers, maintenance technicians and should have building operator certification. They can work as the in house maintenance department or be a contracted building maintenance company.
In addition to reviewing work orders, maintenance supervisors are responsible for the management of employees and the review of short-term and long-term objectives. For example, equipment repair, energy management and all facilities that require cleaning. They also keep track of incoming work orders to prioritize tasks for the day or week.
Maintenance supervisors will hire maintenance workers, create maintenance teams, a maintenance planning and even a building maintenance checklist.
Building Operator Certification: Building operators must undergo two levels of maintenance training to ensure they are familiar with the various components of a building's mechanical and electrical systems. These certifications include HVAC, control point management, electrical distribution, and energy management.
Building Maintenance Priority Types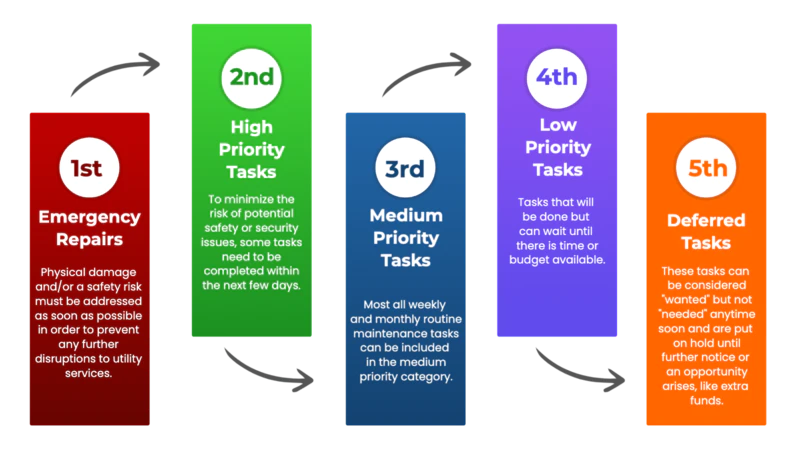 Emergency Repairs
Physical damage and/or a safety risk must be addressed as soon as possible in order to prevent any further disruptions to utility services.
High Priority Tasks
To minimize the risk of potential safety or security issues, some tasks need to be completed within the next few days.
Medium Priority Tasks
Most weekly and monthly routine maintenance tasks can be included in the medium priority category and when maintenance workers keep up with them, avoid unnecessary repairs and improve productivity.
Low Priority Tasks
Tasks that will be done but can wait until there is time or budget available.
Deferred Tasks
These tasks can be considered "wanted" but not "needed" anytime soon and are put on hold until further notice or an opportunity arises, like extra funds.