The terms Day Porter vs Janitor often get thrown around interchangeably and there are big differences between the two. In this article, we'll break down the differences.
What Is A Day Porter Service?
Having day porter services is helpful in many ways. When you request a porter service for your business, you can customize the service to your liking, and you can choose how often you'd like the service to come in and help with keeping things neat. A day porter service is responsible for making sure your building looks professional, clean, presentable and inviting at all times, but especially between routine cleaning and maintenance activities.
Day porter services help lift the appearance of your facilities by cleaning and disinfecting common areas with light to medium foot traffic. Day Porters perform cleaning tasks that help a company run smoothly during the daily operations and are often needed in office buildings or similar commercial properties.
What is a Janitor? A Brief Overview
Janitors maintain the cleanliness and safety of the buildings in which we live, work, learn, shop and convalesce. They clean the interiors, and often the exteriors, of these facilities. The janitor deep cleans as well. They may be part of a janitorial crew within the facility services maintenance department or contracted through a commercial cleaning company.
We extensively cover topics of what janitors do throughout our articles but if you'd like to learn more, a great place to start is What Is Commercial Cleaning? – An insider's look
What Makes Them Different?
While many of their duties revolve around cleaning a facility, there are some key differences.
Difference #1: Job Role and responsibilities.
Day Porter:
Similar to a concierge or bellhop, whose purpose is to serve and support guests in a hotel, a Day Porter is there to support the daily operations of a business so it runs smoothly by keeping things clean, organized and fully stocked with its essentials. The day porter service has housekeeping activities during foot traffic hours of a commercial property.
Janitor:
A janitor deep cleans building maintenance needs of the entire commercial property which may cover multiple buildings. Custodians are also typically asked to handle equipment like buffers, vacuums, blowers, sidewalk sweepers and carpet cleaners, which goes outside the scope of most day porters. In addition, they need handyman skills to perform handyman repairs and conduct scheduled maintenance
Difference #2: Work hours, time of day.
Day Porter:
A Day Porter operates during the "daytime" or better described as office hours; when business is open and staff is working. If the front doors are closed and locked, the Day Porter's job is done for the day. doors are This means a day porter's repertoire includes reflecting the core values of the companies that run and occupy the commercial building.
Janitor:
Generally have odd working hours, or nightly cleaning, because their cleaning does require less foot traffic and needs office workers to be gone from the building. This means they usually work independently without direct oversight and report to facility managers.
Differences In Job Duties
Day Porter tasks range from cleaning to errands depending on the business needs. However, the cleaning activities are typically also done by the custodial services. Day porters are essential to daily operations while janitors are essential to overall building maintenance.
Day Porter Services
Keep lobbies and break room clean
Keep bathrooms clean
Restock bathroom supplies as necessary
Perform minor maintenance, such as replacing burned out light bulbs
Clean common areas like kitchens, cafeterias and patios
Clean and prepare conference rooms before VIP visitors and after meetings
Clean high touch-point areas to reduce the spread of illness by eliminating bacteria and germs
Respond to spills and other cleaning emergencies
Remove or warn of safety hazards, such as wet floors
Remove trash and debris from entrances and parking lots
Meeting setup/tear down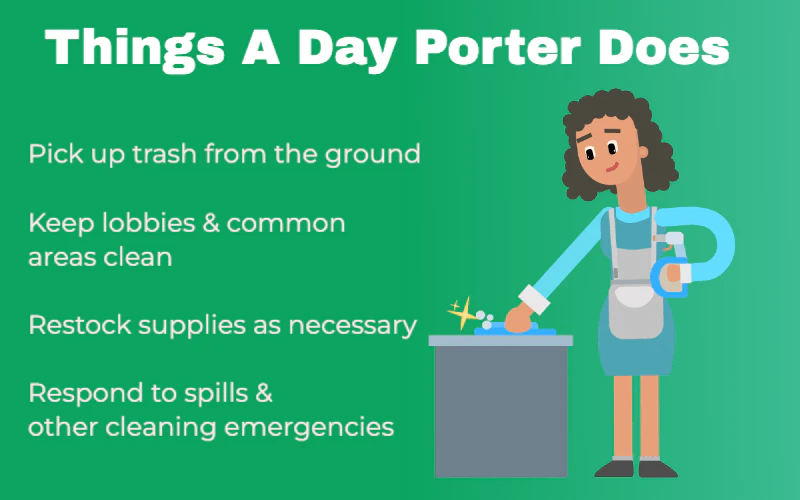 Janitorial Services
General cleaning of the building and keeping it maintained and in good condition.
Empty trash cans
Vacuum, sweep, and mop floors.
Cleaning and stock restrooms.
Ensure doors are locked after hours.
Clean up spills with appropriate equipment.
Perform minor repairs.
Notify the property manager of major repairs.
Collecting and removing trash.
Complete tasks in a timely manner with minimal supervision.
Tracking scheduled maintenance tasks
Keep cleaning supplies in stock.
Work with a contract cleaning service when necessary.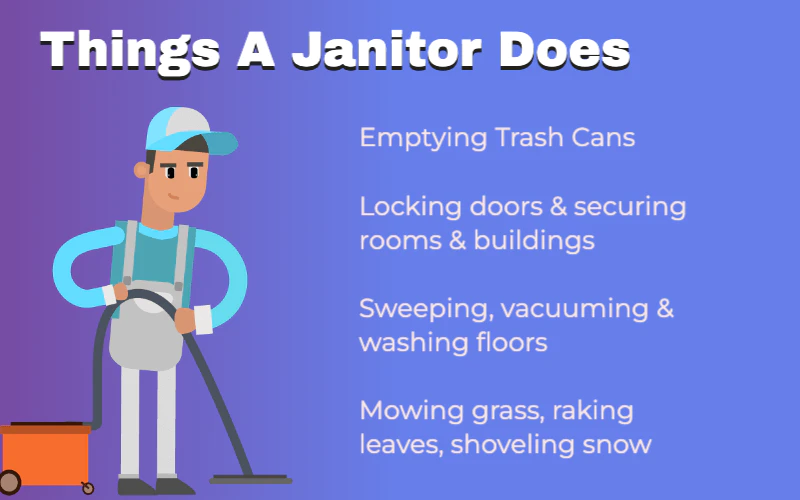 Job Requirement Differences
Day Porter Service
High school diploma or relevant qualification required.
6 – 12 months porter experience.
Able to work a flexible schedule including nights and weekends.
Must be reliable and professional.
Prepared to execute all duties and responsibilities in a safe and timely manner.
Janitorial Job Requirements
Ability to manage your time efficiently.
Juggle multiple tasks
Work well when supervisors are not present.
Ability to lift at least 25 pounds.
Handle basic maintenance, building repairs, cleaning, and other janitorial work.
Basic math skills.
Able to work safely with a variety of cleaning supplies.
High school diploma.
Able to use basic cleaning equipment.
How To Find Day Porter Services Or Janitorial Services
If you're looking to hire internally, you should refer to hiring sources like Indeed.
A great way to reduce management stress plus costs from employee training and insurance would be to contract wit a professional facility cleaning and maintenance company with a building management skillset. You should look in the building maintenance industry for a reputable commercial cleaning company. In addition, we also have an article 5 Questions to Ask Before Hiring a Commercial Cleaning Company that we hope is helpful.
In Conclusion
To sum up Day Porter vs Janitor, these two roles are distinctly different. However, both are important to cleanliness, maintenance and help with employee satisfaction. Therefore both are valued team members.
If you need help cleaning an office space in New York, Advantage Cleaning LLC can help! Our team offers commercial cleaning services, disinfection services, floor cleaning services, and more.
Contact our commercial cleaning company to get a free estimate for your commercial cleaning services needs!