What are the reasons to hire a commercial cleaning service?
Many companies struggle with staying on top of the cleaning tasks that are necessary to provide a clean and healthy environment. In addition, healthy environment is desirable to keep sick days and maximize productivity and motivation. But, the struggle often stems from procrastination of the cleaning duties, which is not a very attractive chore, and the desire to save money. On the other hand, a professional cleaning company can provide a more consistent and cost effective cleaning service that delivers the needed health and safety standards.
What Are The Advantages Of A Commercial Cleaning Service?
The benefits of hiring professional commercial cleaners is higher cleaning standards, regular cleaning, elimination of administrative duties and cost related to operating a team of cleaners.
The Many Advantages Of Hiring A Professional Cleaning Service
Employee Health & Safety Benefits
Employee morale and fewer sick days
Safe and healthy environment
Clean air quality
Workplace productivity
Save time on management and coordination of cleaning duties
Cost effective
Cost Savings Of Hiring a professional cleaning service
Firstly, there's no costs associated with insurance, salary, ordering of supplies and equipment.
Secondly, you have no planning of cleaning tasks, cleaning staff scheduling, status check on cleaning products.
Further, there is zero hiring and follow up with cleaners.
Moreover, no planning, scheduling, and cost related to training and certification of cleaning team.
Efficiency Gains Of Hiring a commercial cleaning company
No hiring of cleaning staff, payroll management, insurance, re-scheduling crew when sick-days happen.
Consistent cleaning and deep cleaning routine to ensure a healthy environment.
When you hire professional commercial cleaning service they will ensure the right cleaning products and equipment is used for most speedy and efficient cleaning.
What To Look For When Hiring A Commercial Cleaning Company
To get the cost, time and efficiency gains from hiring a professional commercial cleaning service, there are a few factors to look for.
#1 Cleaning Equipment
Cleaning equipment like floor buffers, steam cleaners, electrostatic disinfectant sprayers and water extractors are very expensive. But, a cleaning company must provide all the necessary cleaning equipment, which means you will save the cost of investment. In addition, not have to maintain it and spend the time for training on how to use it correctly and safely.
#2 Cleaning Supplies
A commercial cleaning company must provide all the necessary supplies. In essence this is not a full cost saving for you, as the cleaning contract will include cleaning products, but you will not have to keep track of stock, know which products to order and source the supplies.
#3 Safety Training
There's no time and cost for training in OSHA safety standards. To clarify, OSHA provides the guidelines for employee safety which cleaning companies and businesses must comply with. This means staying current on the guidelines and providing the necessary training of the cleaning staff when e.g. using ladders, lifts and other equipment needed for cleaning the office space and other areas. In short, your cleaning contractor will take care of all that for you.
#4 Commercial Cleaning Services
Most commercial cleaning companies provide a full range of commercial cleaning services but not all to the same standards of high quality, consistency and efficiency. It is essential that you request a formal description of their cleaning processes, cleaning quality standards, training and quality control procedures.
The commercial cleaning services that you need:
Carpet dirt extraction
Extensive floor cleaning services
General office cleaning
Dusting high and low
Air-vent cleaning
Disinfecting
#5 The Professional Commercial Cleaners
Professional cleaners are a team and must act as a team to be efficient and consistent. As a result, they must receive regular training in cleaning procedures from their cleaning company for continues improvement. They should also have on the job training at your business in order to understand your facility's cleaning requirements, the sequence, necessary cleaning products and equipment to use.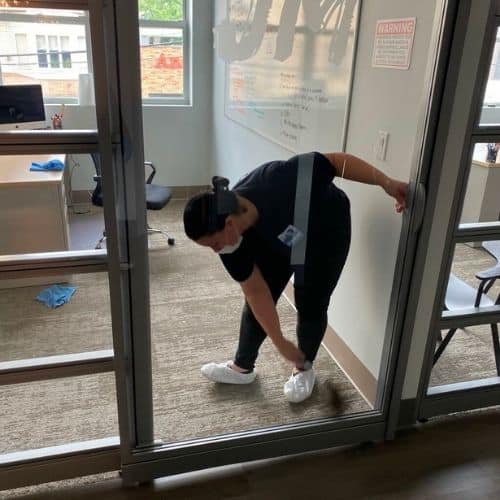 The Essential deep cleaning services
The deep clean can be a challenge and often times doesn't get done as "deep" as it should. Certainly, because moving furniture, cabinets, tables, curtains, plants and copiers is time consuming, most business owners tend to postpone it. Therefore, hiring professional cleaning services for the quarterly or semi-annual deep cleaning service might be a good idea.
Deep cleaning is essential for removing bad odor and improving air quality. In addition, possibly the biggest positive impact is fewer sick days and less occurrence of allergies.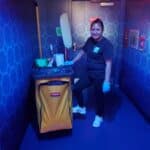 Who Benefits From hiring a Commercial Cleaning Services?
Every type of business, form office buildings, commercial and industrial facilities, benefits from a clean work environment that janitorial services can provide. Cleaning is essential but a chore that not everyone enjoys. However, hiring professional cleaning services brings so many benefits to a business owner. For instance, the continued operation of the business, the all important clean air, safe environment and employee motivation and productivity.
For more details on our building cleaning and maintenance services, please select: industrial cleaning, post-construction cleaning, cleaning and maintenance for property managers, school janitorial services, or contact us.
In Conclusion
The major reasons to hire a commercial cleaning service is:
Save time by eliminating management of cleaning a staff, payroll and insurance.
Eliminate the need for buying cleaning products and equipment.
No need for cleaning and safety training of a cleaning crew.
Get regular cleaning and deep cleaning to keep high health and safety standards, employee productivity and less sick-days.
Was this helpful?
Please give us a shout out if you found this helpful or if you have input that would make the reasons for hiring a professional cleaning company even better.