Let's get your office looking new again with an office deep cleaning checklist
A typical office work day includes a variety of tasks from interacting with coworkers to reviewing documents. Everything from meetings, desk work, filing, lunch breaks and phone calls keeps people mentally occupied and hopefully, productive.
However, keeping the office clean is not one of the tasks on most people's agenda, other than picking up after themselves throughout the day such as food wrappers. As a result, trash cans fill up, dust collects on the reception counter, conference tables, hard surfaces and glass surfaces.
One way to keep a clean and organized office is to create an office cleaning checklist of tasks that need to be completed each day. Typically, a cleaning company will come in and do these tasks in the evening, after everyone has gone for the day.
But, regular office cleaning is not enough to keep an office looking new, smelling fresh and having a sparkly shine. That is where deep cleaning comes in and why an office deep cleaning checklist comes in handy. It includes more than just a regular office cleaning checklist to empty trash cans, replace liners, clean the coffee table, coffee pot and refill the paper towels.
What Is Deep Cleaning Office Space?
Have you ever walked into an office in an older industrial area, business park, any gas station, office warehouse or a mechanics shop and instantly smelled an unpleasant odor? You look around and can see gunk in grout lines of the floor, in every seam and edge of every surface. That is what happens when a deep office cleaning is not done on a regular basis.
Deep cleaning means removing chairs, desks and similar furniture to restore all flooring hard surfaces. In addition, scrubbing all painted surfaces with soap and water, possibly even repainting, if necessary. In short, to make an office in "like new" condition.
How Is Deep Cleaning Different From Regular Commercial Cleaning?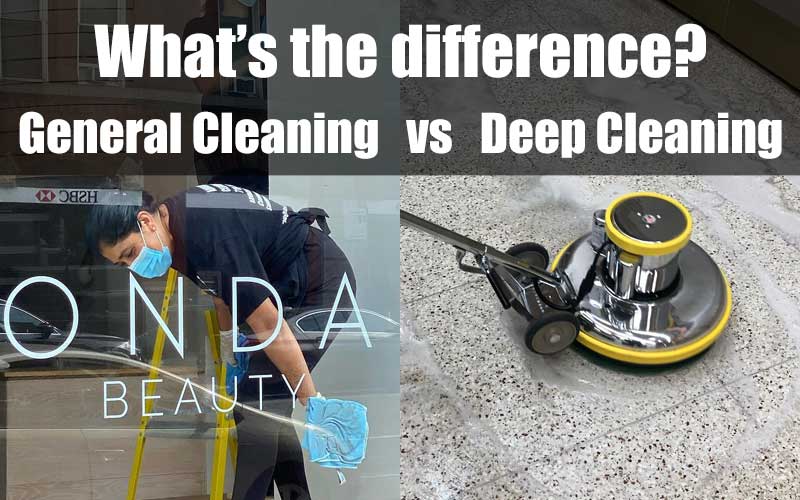 Regular Office Cleaning
Regular commercial cleaning is the process of removing dirt, dust, and other visible contaminants from an area. It is necessary to maintain a healthy workplace. In addition, cleaning tasks include things like empty trash cans, recycling bins, sanitary napkin dispensers, refill toilet paper, paper towel dispensers, hand soap dispensers, vacuum floors and mop floors.
Further, dust windows, light fixtures, hard floors, computer equipment, disinfect toilet seats, disinfect trash receptacles, light switches, the use of glass cleaner spray disinfectant and should all be on daily and weekly cleaning lists.
Regular cleaning equipment
Broom & dustpan
Mop
Vacuum cleaner
Cleaning cart
Buckets
Gloves
Shoe covers
Spray bottles
Towels/rags
Toilet brush
Toilet paper and paper towels
Deep Cleaning
On the other hand, deep cleaning is a more comprehensive process that involves removing both dirt and debris as well as harmful contaminants such as mold and bacteria.
Firstly, one key difference between regular cleaning and deep cleaning is how much time each takes. Regular cleaning can be completed in a matter of hours, while deep cleaning may require a full day or more. Secondly, deep cleaning typically includes the use of special equipment such as steamers, shampooers and scrubbers to remove even the most stubborn debris.
Deep cleaning equipment
Electrostatic sprayer
Floor machine (waxing and buffing
Carpet steamer
Grout Cleaning machine
Pressure washer
Ladders
Window cleaning equipment (Squeegees and brushes)
Extension poles
Respirator
Knee pads
If you'd like to learn more about the differences between these types of cleaning, we have an article you can read: 4 Differences – General Cleaning vs Deep Cleaning
Why Should You Deep Clean?
Who doesn't want their office clean? Not only do we want to make a good first impression for office reception visitors, but also to keep a healthy environment for staff and visitors.
With 8 hours work shifts, 5 days per week, 250 days out of the year, that's about 2000 hours a worker spends at the office per year. Certainly, breathing in allergens and dust for that long can be a health hazard. Further, being surrounded by collecting dirt, grime, stains and odors is not a welcoming or inspiring environment.
Studies have also shown that deep cleaning an office can improve employee morale, decrease sick days, and increase productivity. By removing these contaminants and restoring a clean office, you can help your employees feel productive and healthy in their workplace.
In addition, the regular daily office cleaning becomes much easier to do when you maintain a deep cleaning routine. Above all, you avoid expensive damages to your property by keeping it in top condition.
How Often Should You Deep Clean An Office?
There is no one answer to this question since it depends on the type of business and the size of the office. However, most experts recommend deep cleaning your office quarterly but at a minimum, every 6 months. This should be done by your contracted cleaning service or by taking care of it yourself.
Most importantly to note is that the more often you deep clean, the less difficult it is deep clean each time. Moreover, the longer things will last such as floor finishes, appliances, painted surfaces.
Commercial Cleaning Checklist
Restroom Cleaning Checklist
Machine scrubbing restroom floors (helps eliminate urine smell)
Redoing of caulk around the toilets and sinks
Washing trash receptacles (Replace Liners)
Sinks, Countertops, Toilets, Urinals (Clean, Sanitize, Polish)
Glass, Mirrors, Chrome (Clean, Polish)
Dispensers: Soap, Tissue, Towels (Fill, Clean, Sanitize)
Partitions (Sanitize, Dust)
Clean Walls and Doors (Sanitize)
Door Handles, Light Switches (Sanitize)
Break Room and Kitchen Area Cleaning Checklist
Because people prepare food and eat it in the kitchen area and break room, it quickly becomes dirty and collect bacteria. Likewise, because people prepare and eat food there, for their safety it is crucial to deep clean sanitize and disinfect these areas correctly to remove those bacterias.
Sanitize Sinks, Countertops, Tables, Front of Cabinets and all horizontal surfaces
Damp Wipe Outsides of Large, Small and Other Kitchen Appliances
Clean and Sanitize Chairs
Clean Inside of Refrigerator
Clean and Sanitize Garbage Cans
Office Area Cleaning Checklist
Wiping down all desks (ask employees to remove everything from the surface)
Clean and sanitize all computer keyboards, screen and other computer equipment
Dusting & wiping blinds and ceiling fans
Scrubbing baseboards
Sweeping, vacuuming and mopping floors underneath furniture
Clean windows (inside and outside)
High Dust (Vents, Lights, Corners, Blinds, Items on Walls)
Floor Cleaning Checklist
Floor cleaning is arguably more important than all other surfaces when it comes to deep cleaning. Therefore, a deep cleaning checklist would not be legitimate if it did not have floor cleaning included.
However, because these tasks a lot of effort to move furniture, time to do the work and expense of heavy duty equipment, it often is not done. There is no substitute for a beautifully clean, shining floor. It makes a world of difference to overall cleanliness of the office environment.
Stripping and waxing floors
Carpet cleaning
Polish Floor
Burnish Floor
Clean Ceramic Tile and Grout
Strip and Wax Floor
Scrub and Re-coat Floor
Clean Ceramic Tile and Grout
Seal Grout Lines
Clean and Seal Stone Floor
Using Your Office Deep Cleaning Checklist
When any type of cleaning is being done, an office cleaning checklist should be used. Likewise, it should be done routinely and put on the office schedule. Just like any other parts of a successful business, systems and processes are needed to keep it running smoothly.
Whether you print this checklist out, put it in a manual or use a digital checklist system, like we do, it should be accessible and mandatory to follow. The office cleaning checklist is a form of documentation that can be signed off on by the cleaner and referenced later for auditing quality.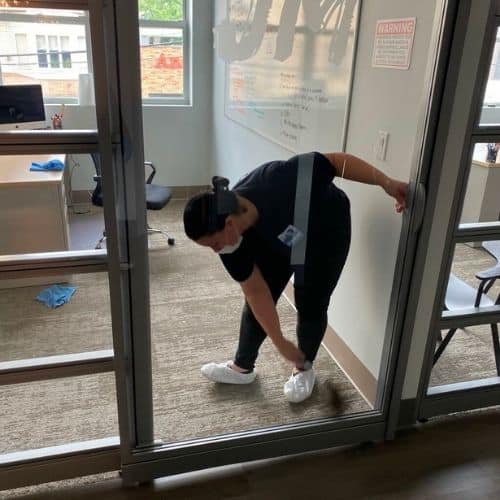 How To Know When It Is Time For Office Deep Cleaning
If you are not sure how long it has been since your office has had a deep cleaning, here are some questions you can answer that will help you determine if it is time to have it done.
Can you see any cobwebs in the corners of the ceilings and stairwells?
Are the radiators clean and free of dust and grime build up from spilt drinks etc?
Are door frames dust free?
Do the windows look clean?
Are the insides of kitchen and break room cabinets clean?
Are sink faucets and water fountains free of limescale build up?
Is there debris under desks and other hard to reach places?
Do the baseboards have scuff marks?
Can you see obvious marks on walls in your office, or on glass wall divides?
How clean is the inside of the fridge of the kitchen?
Around restroom toilets – do the walls and behind the toilets look clean?
Do the carpets look discolored in certain areas, darker or stained?
A nice thing about contracting a commercial cleaning company is that typically they will begin their contract with an office deep cleaning. This allows them to establish a baseline of cleanliness and helps them monitor the office's cleaning needs, along with their own ongoing quality control. So, you won't have to worry about knowing if it is time for a deep cleaning or not.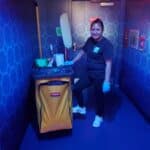 In Conclusion
Some key points to remember when using your checklist:
Deep cleaning on a routine basis makes all cleaning easier and faster.
It also extends the life of finishings and helps your office looking "like new".
Use the checklist for cleaning consistency, documenting and quality control.
Make sure you have all necessary equipment ready before you begin.