If you are considering hiring a commercial cleaning company, ask yourself these 5 questions to help you shortlist the best cleaning companies that provide consistent high quality cleaning.
Workplace germs are a serious issue, with the average office desk having more than 10 million bacteria. This means that every time you go to work, you are at risk of getting sick or spreading germs.
One thing that can help you prevent illness in the workplace is hiring a commercial cleaning services partner. Still, you need to select the right cleaning company to ensure you get the best results. 
Do you want help hiring cleaners for your company? Keep reading this guide for the top five questions you should ask a cleaning company before you hire them.
1. What Type of Experience Do You Have?
Learning about a janitorial cleaning company's experience is one of the most important things you can do before hiring cleaners. This will help you learn more about the industries they specialize in, the types of commercial cleaning service they specialize in.
First, you can ask the cleaning company how long they have been in business. Companies that have been in business for years likely have more training and experience than a company that has no referrals or reviews.
Next, you should ensure that they have experience cleaning for businesses similar to yours. This way, you can feel confident that they know what to look out for when cleaning your space and will provide you with the best services possible.
Lastly, you should ask about the specific commercial cleaning services that a company offers. For example, do they specialize in commercial floor cleaning? Do they offer disinfecting services?
Getting the answers to each of these questions can help you find a company that will meet your needs for cleaning.
2. How Much Are Your Rates?
To make sure you find a cleaning company that you can afford, you should learn more about a company's rates for commercial cleaning services. Most companies will offer a free estimate for each of their janitorial services, so you can use these to compare prices between different companies.
When looking at these estimates, make sure you consider more than just the price. For example, some companies will include much more in their cleaning services and will charge the same price as a company that is not as thorough with their cleaning. Make sure you find a company that offers valuable services at a reasonable price.
You should also beware of cleaning companies that offer really low quotes. Instead, it is best to find a company that will provide you with the best long-term results.
After getting an estimate, make sure you understand exactly what is included in the package, what janitorial services are included, and more.
3. What Is Your Quality Control Process?
When you are paying for commercial cleaning services, you want to be sure that you get what you pay for. Because of this, you should ask your cleaning company about their quality control process for their clients.
If you blindly trust that your cleaning company follows the right protocol when cleaning your space, you may be disappointed in the results.
A reliable cleaning company should regularly inspect the quality of the services that you received.
Similarly, you should ensure that their employees are properly trained and know what types of cleaning products to use in different areas of your business. Learning more about the ways a company trains its employees can provide you with peace of mind that they are providing high-quality janitorial services.
4. Do You Bring Your Own Supplies?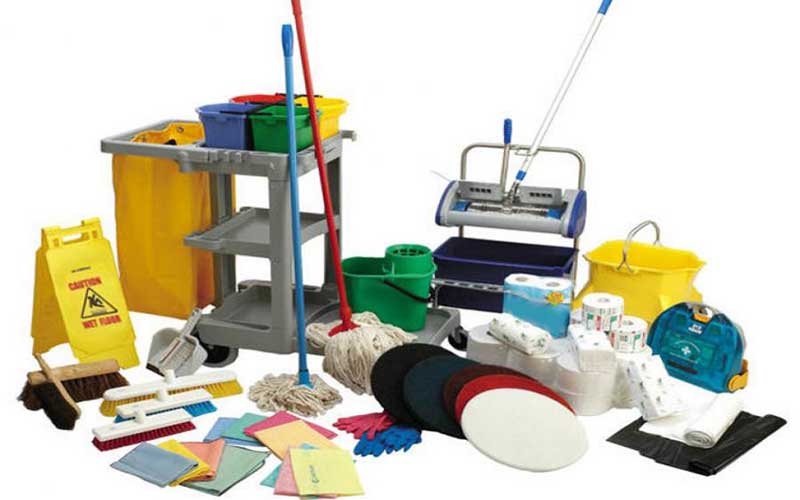 Next, you should ensure that your cleaning company will bring their own supplies.
The most reliable cleaning companies will always bring their own supplies. These include cleaning tools and products. The cost of supplies should be included in the rates for their commercial cleaning services.
Still, some companies may expect you to provide your own supplies for cleaning or will charge you extra to use their cleaning supplies. This is a sign of an unreliable and unprofessional company.
You should also find a company that prioritizes using the highest quality products. They should know which supplies clean the best, which supplies are best for the environment, and more.
By finding a company that provides its own supplies and equipment, you will be able to lower your cleaning costs! This way, you will not have to invest in costly tools and cleaning solutions to clean your office space.
5. Are You Licensed and Insured?
Finally, it is essential that you find a company that is licensed and insured. This is a necessary precaution to take to protect your company from an unreliable business.
When you find a cleaning company that is licensed, it shows that it went through the proper training and has the qualifications to run a cleaning company. If you hire an unlicensed company, your business will assume liability for many things.
Plus, this puts you at a bigger risk of getting ripped off by an unreliable company.
Similarly, you must find a company that is fully insured. Companies that clean businesses should have workers' compensation insurance and general liability insurance at the bare minimum. This way, your company will be protected financially if one of the cleaners is injured on your property or if they cause any type of property damage.
Looking for a Professional Commercial Cleaning Company?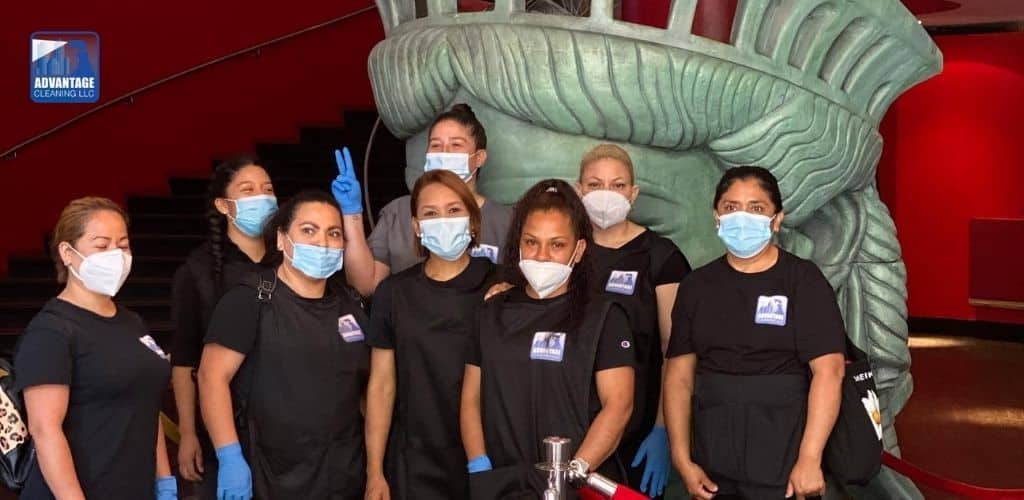 As a business owner, having a clean workplace is essential to your productivity and safety. Asking each of these questions will make it easy to find the best cleaning companies in New York to represent your business and improve the cleanliness of your workplace.
If you need help cleaning an office space in New York, Advantage Cleaning LLC can help! Our team offers commercial cleaning services, disinfection services, floor cleaning services, and more.
Contact our Advantage Cleaning to get a free estimate for your commercial cleaning needs!