Efficient construction cleaning is paramount to maintaining a pristine construction site, especially when project deadlines are looming. As a professional with immense responsibilities, you require partners who can match your pace and deliver quality services without compromising the aesthetics and functionality of your project.
In this guide, we'll cover:
These points and more will be addressed, providing an insight into why hiring a professional construction cleaning company like Advantage Cleaning is crucial in the post-construction phase.
What is Construction Cleaning?
Construction cleaning, or post-construction cleaning, is an essential service provided after the completion of a construction project. The aim is to remove all leftover materials, dust, and debris to prepare the site for use.
A professional cleaning company, such as Advantage Cleaning, conducts this detailed cleaning process, ensuring both safety and aesthetic appeal. The service spans over various parts of the site including the interiors of the building, as well as the exteriors, grounds, and parking areas.
Post-Construction Cleaning Is A Unique Expertise
When you're dealing with large-scale new construction or renovation projects, the last thing you need is the added stress of post-construction and post renovation cleaning. You need a cleaning company with a large team of trained specialists, able to handle large projects at short notice and deliver consistently high-quality work. This will help you build the confidence that you can hand-over the key to the building owner on time and avoid spending your time on oversight and follow-up with the cleaning company.
A proficient team can ensure every corner of the site is clean and safe, ready for the final handover. The high level of professionalism and efficiency required to operate in a hectic environment is what sets top-notch cleaning and maintenance service providers apart.
Reaping the Benefits of a Expert Construction Cleaning Team
Beyond just cleaning, a well-equipped crew offers several benefits that enhance the efficiency of your construction project. A fully trained and professional team can operate in fast-paced, last-minute environments. They can work in parallel with construction workers, ensuring that the cleanup process doesn't hinder the final stages of construction.
Championing Eco-Friendly Waste Disposal
Waste management is a critical aspect of any construction project. An ideal commercial cleaning partner not only helps with the efficient removal and disposal of debris but also implements proper waste recycling practices. Such measures help maintain the cleanliness of the site and contribute to the environmental sustainability of the project. Here you can find more about our commitment to environment, social, and governance (ESG), how we ensure sustainable cleaning products, equipment, machinery, our minority hiring certification, and how we govern our operation.
The Three Phases of Post-Construction Cleaning
At Advantage Cleaning, we are masters in the art of post-construction cleaning services by dividing it into three well-structured phases. Each phase targets a specific stage of the project, ensuring a comprehensive clean-up that leaves your construction site spotless and ready for handover.
Phase 1: Construction Rough Clean
The first phase, also known as the "Rough Clean", is initiated as soon as the construction work winds down. This stage involves the removal of large debris, leftover construction materials, and any waste that can obstruct the remaining work. This phase sets the foundation for the subsequent cleaning processes.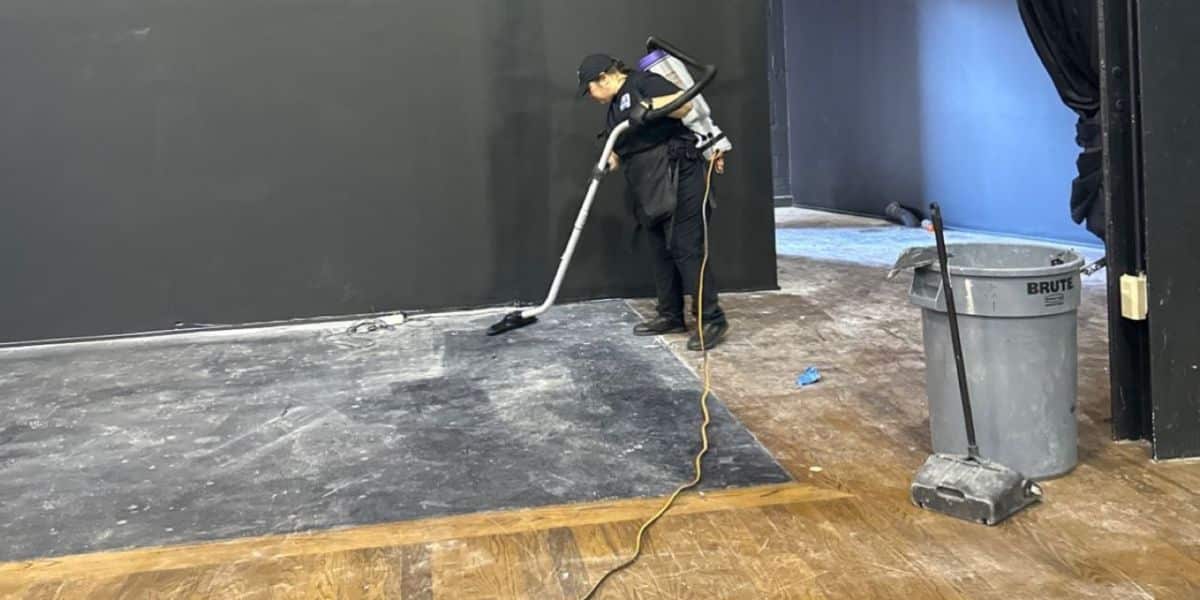 Phase 2: Construction Light Clean
Once the large debris has been removed, we move on to the "Light Clean". In this phase, we focus on more detailed tasks such as scrubbing the floors, cleaning the windows, and wiping down surfaces. This phase ensures that all the dust and grime accumulated during the construction process is eliminated, and the site starts to take on a cleaner, more finished appearance.
Phase 3: Construction Final Clean
The "Final Clean" is the last and most crucial phase of our post-construction cleaning process. Here, we perform a comprehensive and detailed cleaning, polishing every surface to ensure the site is pristine and ready for handover. This phase includes deep cleaning of floors, walls, ceilings, fixtures, and exteriors.
Our three-phase cleaning process is a strategic approach, ensuring we leave no stone unturned. We focus on every detail, big and small, to ensure the final product is a reflection of our commitment to quality and excellence.
Comprehensive Exterior Cleaning: Ground and Parking Areas
The exterior of your construction site is just as important as the interior. A pristine exterior creates a positive impression on the building owner, visitors and potential tenants. Whether it's the building's façade, the surrounding grounds, or parking areas, a comprehensive exterior cleaning service can significantly enhance the overall aesthetics of your project.
Finding the right partner to handle your cleaning needs can be a challenge. But with an experienced team at your disposal, you can focus on what you do best, while we take care of making sure your project shines in the best light.
What does construction cleaning include?
As construction cleaning experts, Advantage Cleaning's goal is to ensure that every inch of your construction site, both interior and exterior, is thoroughly cleaned. Our focus areas include:
i) Interior Spaces
Interior cleaning is a broad term that encompasses a variety of specific tasks, including:
Dusting and washing all surfaces, including walls and ceilings.
Cleaning of lights and light fixtures.
Window and glass cleaning, including scraping and etching removal.
Vacuuming and cleaning of carpets.
Sanitizing bathrooms and kitchen areas.
Detailed cleaning of trim, baseboards, window frames, and door frames.
ii) Exterior Spaces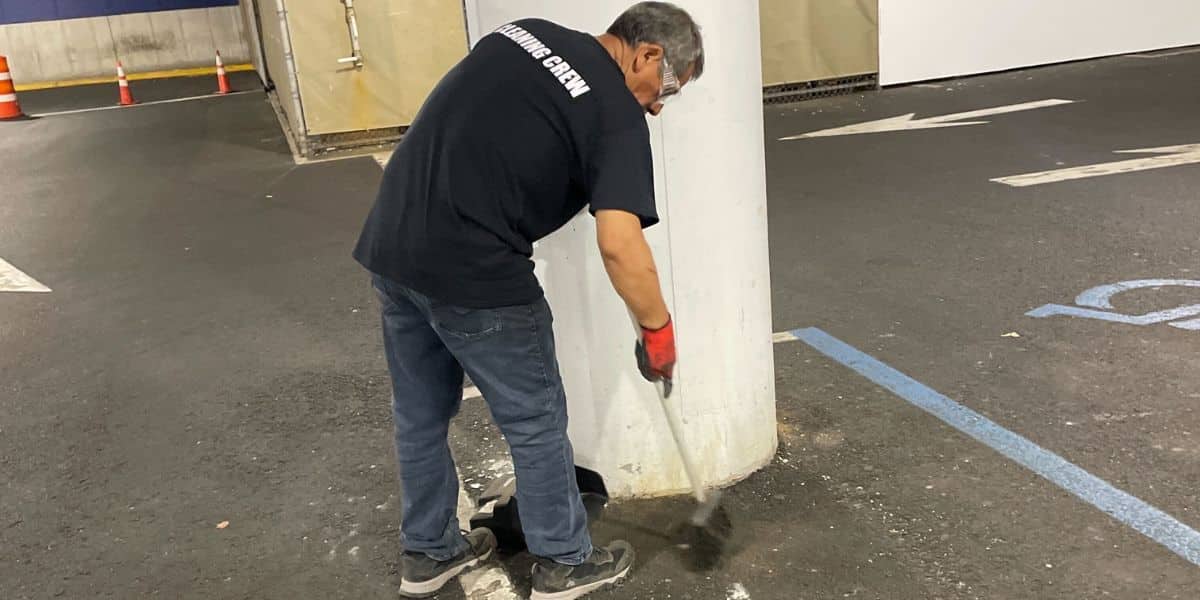 A clean exterior makes a significant impression. Our exterior cleaning services include:
Removal of construction debris and dust.
Pressure washing of exterior walls, windows, and surfaces.
Cleaning and sweeping of entryways.
Thorough cleaning of outdoor common areas like patios and decks.
iii) Grounds and Parking Areas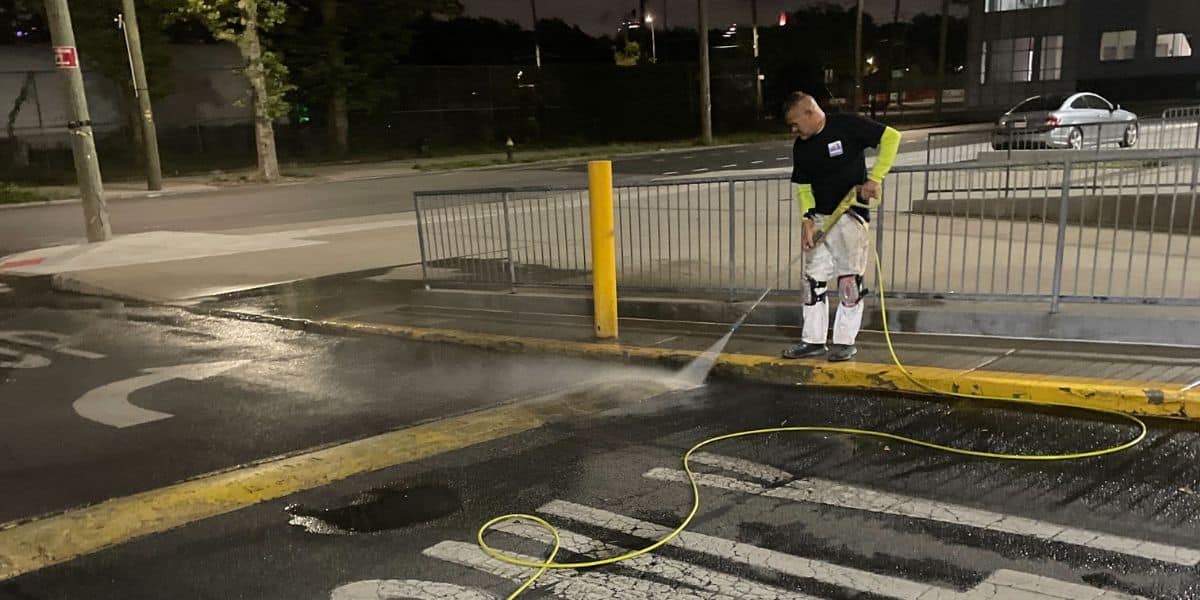 Maintaining clean grounds and parking areas is crucial to enhancing the overall aesthetics of your site. Our services in these areas include:
Sweeping and power washing of pavements and walkways.
Power washing, cleaning and maintenance of parking lots
Removal of trash and construction debris.
Landscaping and garden clean-up, as required.
Our thorough and meticulous cleaning process ensures your construction site is not only clean but also presentable and ready for final inspection.
OSHA Compliance and Safety Standards
When selecting a construction cleaning company, it's important to consider their commitment to safety and compliance with OSHA regulations. This includes:
Compliance with OSHA Standards
Proper training and certifications
Use of appropriate Personal Protective Equipment (PPE)
Adherence to waste disposal regulations
Implementation of safety policies and procedures
Find more information on health and safety standards, please visit OSHA compliance and safety standards.
When construction is complete, the clean-up process is just as crucial as the construction itself. It is the final touch that transforms a construction site into a clean and inviting space. Choosing a professional construction cleaning service like Advantage Cleaning ensures that your site is not just clean, but also safe and ready for use.
Please visit our construction cleaning services for more details on our cleaning offerings.
Construction Cleaning FAQ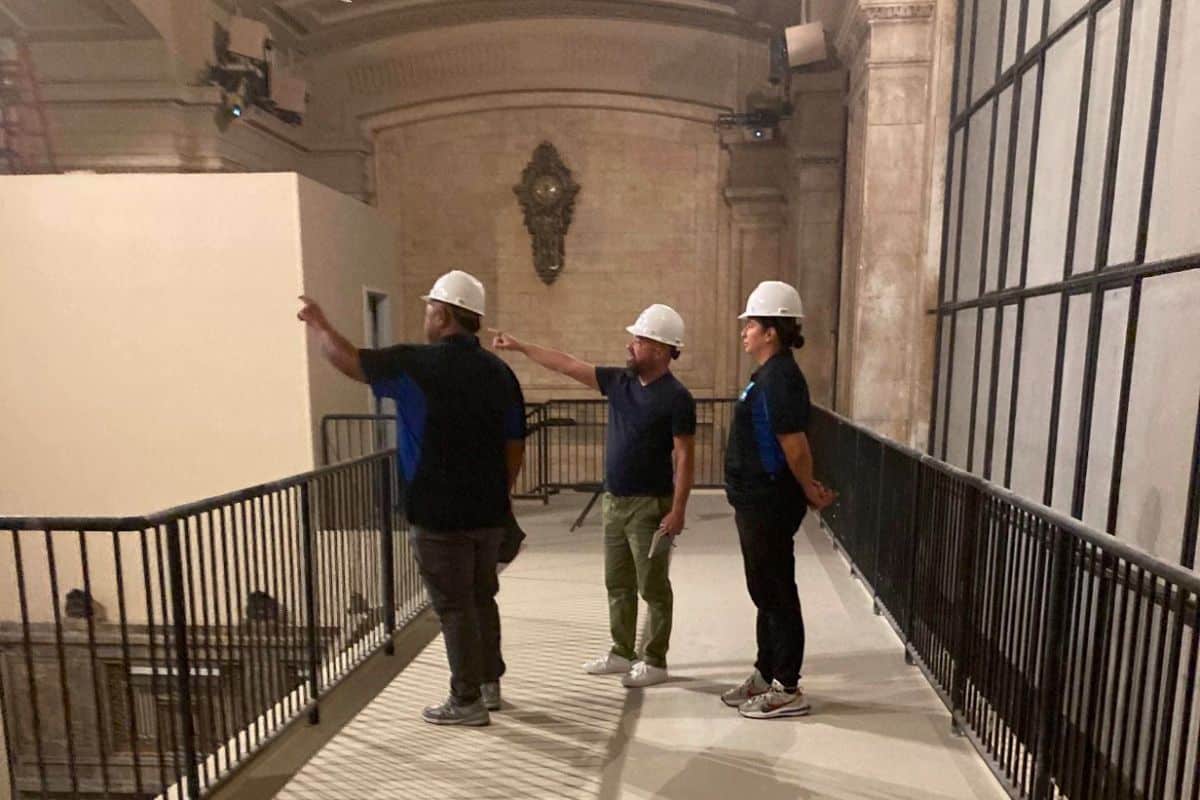 Dive deep into the intricacies of The 3 Phases of Post-Construction Cleaning. Understand the importance,…
In this guide we pinpoint the unique differences between commercial cleaning and post construction cleaning….