Cleaning and disinfecting our office space directly affects the health and safety of our employees, visiting customers and suppliers, and thereby our ability to remain operational, serve our customers, and reach our revenue targets. So we can agree it is important. Not only does it make your workplace look nicer, but it can also help to prevent the spread of infection. In this guide ", we will show you how to disinfect your office properly and implement important safety precautions.
What Is Disinfection?
Disinfection is the process of destroying or removing microorganisms (germs) from a surface or object. Disinfectants are used in hospitals, offices, schools, and other places where people come into contact with potential pathogens. Disinfectants can be water-based or oil-based.
Guidelines For Disinfecting Your Office Space
CDC provides guidelines for cleaning and disinfecting for protection of public health and safety. The guidelines recommend using a combination of methods to clean frequently touched surfaces and equipment, including using detergents, hot water, and bleach. It is important to follow the guidelines carefully to protect people in your office from infections.
Professional cleaning and disinfection is important to keep your office clean and free of harmful bacteria and viruses. To do this, you will need to disinfect it on a regular basis. This guide provides guidelines for disinfecting your office space.
To disinfect your office, you will need to:
Clean all surfaces first: wipe down all hard and soft surfaces with a clean wet cloth and soap or detergent.
Pay close attention to any surfaces that may have come in contact with a sick person or their fluids, such as counters, tables, chairs, door knobs, desk phones, and remote controls.
Rinse the surfaces with clean water.
Apply an effective disinfectant. Liquid spray bottles are recommended.
Let disinfectant sit for the recommended amount of time (read directions).
Rinse and dry all surfaces.
When to Clean and When to Disinfect
Clean Daily: Using cleaning products in the office on a daily basis will reduce germs by disinfecting surfaces and reduce risk of infection from those surfaces.
Disinfect As Needed: If a sick person has been in your facility in the last 24 hours, you should clean and disinfect the office space. Always clean immediately before disinfecting.
You should consider to clean and disinfect more frequently if the office space:
Is a high traffic area with large numbers of people. (examples: multi-unit office lobby, school)
Has poor air ventilation
Does not have hand washing areas, hand sanitizer, and paper towels.
Is occupied by people with increased risk of illness (example: medical office)
The Environmental Protection Agency (EPA) provides a list of tested disinfectant supplies that helps us to find and use disinfectants that actually deliver the results of preventing the spread of germs.
Centers for disease control CDC Guidelines for cleaning and disinfecting facilities
Guide on how to was hands effectively
Alternative Methods of Disinfection
In most general office spaces, alcohol based hand sanitizers, soap with warm water and disinfecting supplies, like disinfectant wipes and sprays, will suffice for disinfection. There are a number of alternative methods of disinfection that can be used in an office environment, but most commonly used is electrostatic disinfection sprayers.
Some common methods include using:
When working in healthcare cleaning, goggles, latex gloves and protective clothing are the every-day basics, as are disinfectants and thick trash bags. The key is knowing how to properly disinfect while exercising caution in a medical environment.
The benefits of using these more modern technologies are that they disinfect hard and soft surfaces faster than by hand and also cover areas that are hard to reach. It's very important to note that these methods must be done by trained professionals, proper equipment and specific disinfection products to ensure efficient disinfection.
How To Spray Disinfectant In The Office?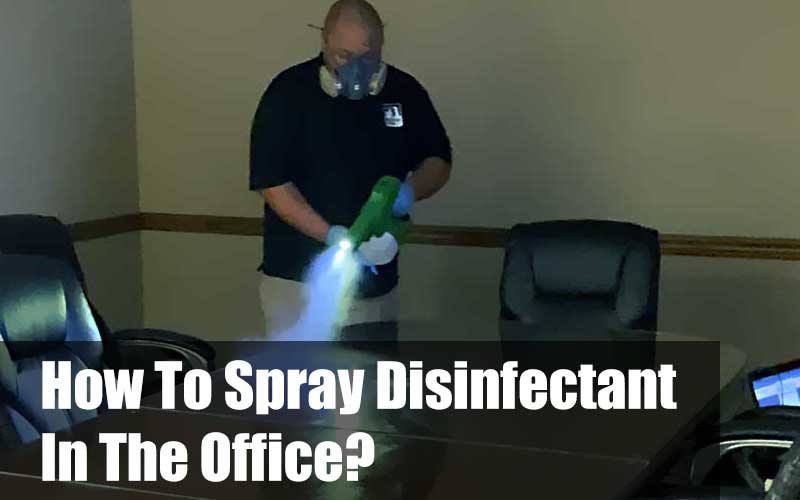 Using the electrostatic spray disinfectant process accomplishes results much faster and more accurately than doing it by hand. All methods of spraying disinfectant in the office should be done by trained and professional cleaning services to ensure the disinfection process is done effectively and use of the right disinfectants.
To spray disinfectant in the office safely, do the following:
Only use a disinfectant product designed for spraying
Read and follow the disinfectant instructions

Dilution ratios
Rest times

Wear Personal Protection Equipment (PPE) during spraying
Make sure the room is well ventilated
Keep people out of the room
Wipe rinse all surfaces where food will come in contact after spraying (cooking and eating areas)
To use the electrostatic sprayer, follow these steps:
Prepare your electrostatic sprayer with the disinfectant solution.
Keep a distance of at least 2 feet from the surface you are spraying.
Spray with a consistent vertical motion, up to down, down to up.
Focus on high touch points: door knobs, light switches, desks, chairs, keyboards, computer mice,
Let mist fall down onto flat horizontal surfaces.
Allow appropriate rest time for disinfectant.
Wipe all surfaces that will be touched.
How Often Should You Disinfect Your Office?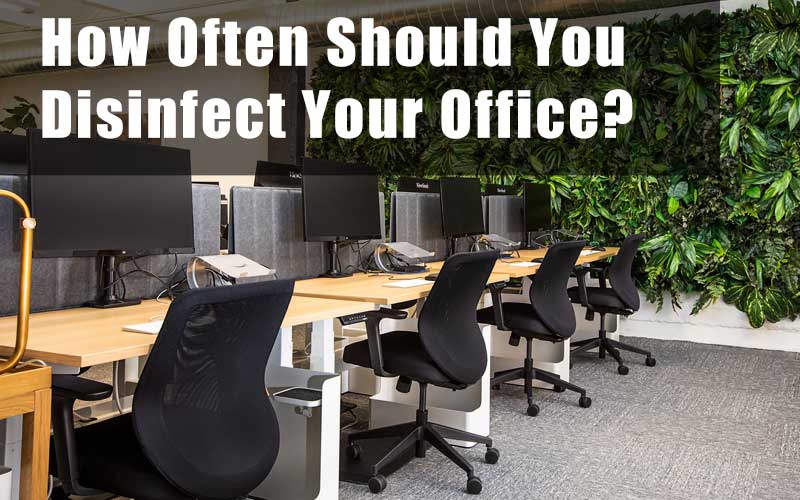 There is no one answer to this question as it depends on the specific needs of your office. However, a good rule of thumb is to disinfect your office at least once per week. This will help to prevent the spread of bacteria and other contaminants, and ensure that your work environment is clean and healthy.
How To Disinfect Office Chair
In order to keep your office equipment clean and free of harmful bacteria, it is important to disinfect your chair regularly.
Follow these simple steps to disinfect your chair:
Wet down the area around the chair with a towel.
Add a few drops of disinfectant to a spray bottle, and spray the disinfectant over the wet area around the chair.
Let the disinfectant work its magic for a few minutes, and then rinse off the chair with clean water.
Dry off the chair with a towel
How To Disinfect An Office Desk
A desk is one of the most common places where bacteria can spread. To disinfect your desk, follow these steps:
Remove all objects that could be a potential source of bacteria. This includes any papers, pens, pencils, or other objects that could be contaminated with saliva or other bodily fluids.
Clean the surface of the desk using a disinfectant cleaner. Make sure to scrub all surfaces well and rinse off the cleaner with water.
Apply a layer of disinfectant to the surface of the desk using a spray bottle or cloth rag. Let it sit for at least 30 minutes before rinsing it off thoroughly with water.