This school cleaning guide is an effort to help raise the level of school cleaning quality and make a difference in our community's health and appearance.
Schools Are Paramount To A Healthy Community
"Clean and safe" has a new meaning, post pandemic, and schools are at the epicenter of our community, a place we all meet through our children. And it is almost impossible not to spread a "cold", "influenza", or worse, a bit of COVID, which our kinds inevitably will bring back home, regardless of how much we try to protect our selves.
So it is paramount that commercial cleaning companies implement the learnings from the CDC, national commercial cleaning organizations like ISSA, and EPA's guidance on use of cleaning products, in order to provide the highest level of cleaning quality, and protect the center of our community, the schools.
Our Guide For High Quality School Cleaning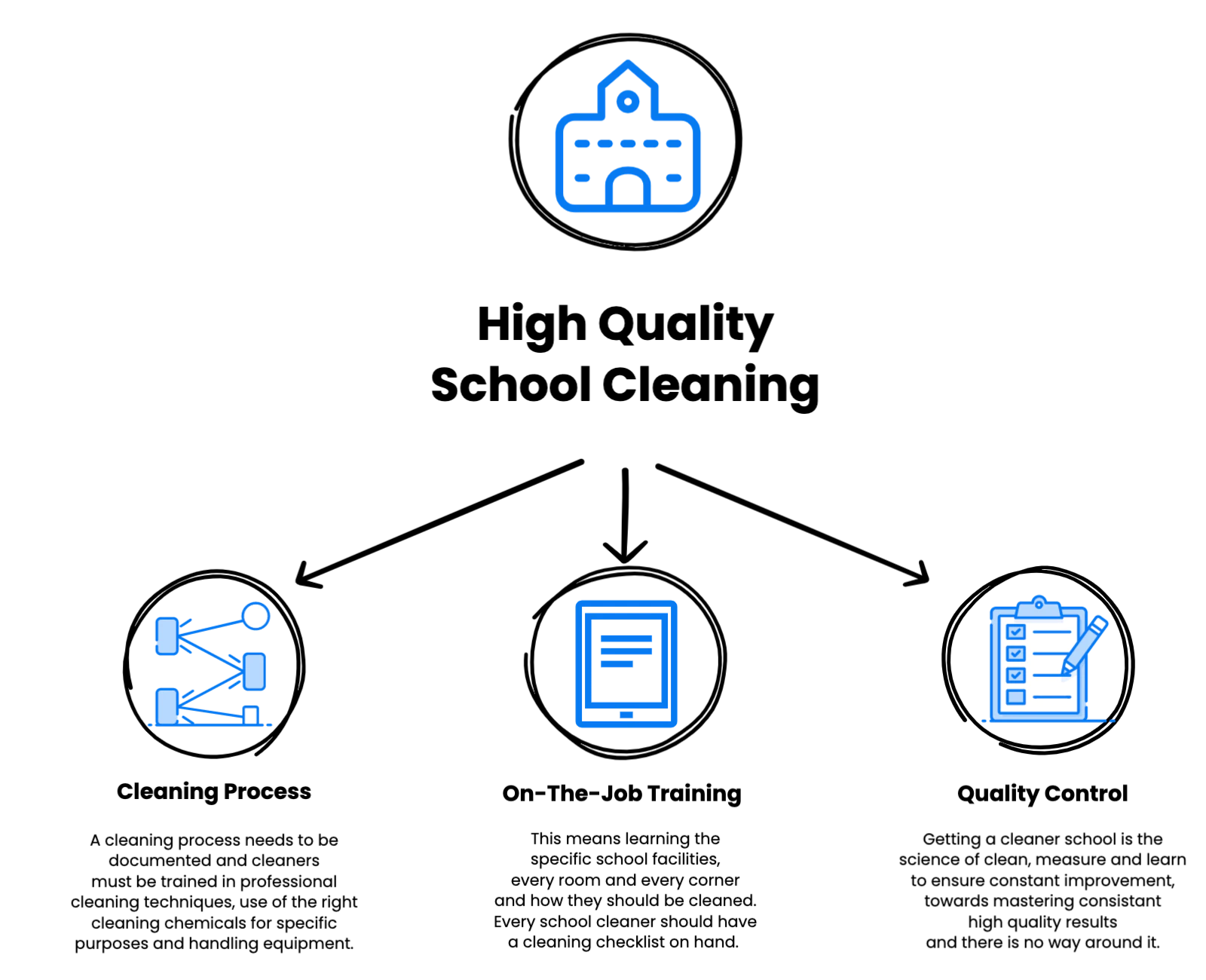 We are sharing our janitorial cleaning system to help raise the level of school cleaning quality in an effort to help make a difference in our community's health and appearance in the New York Metropolitan area. And please do not hesitate to share it.
The Essence Of Cleaning Quality Is A Cleaning Process
School cleaning quality is only achieved if it is consistant and consistency is only achieved by relentlessly following a list of steps. Therefore a cleaning process needs to be documented and the professional cleaners must be trained in professional cleaning techniques, use of the right cleaning chemicals for specific purposes, and handling cleaning equipment.
On-The-Job Cleaning Training
On-the-job training, serves the purpose of learning the specific school facilities, every room and every corner, and how they should be cleaned. Every school cleaner should have a cleaning checklist on hand to check off when a task is done. Quality control should be done during every cleaning and disinfection to evaluate the quality. Without a relentless adherence to a documented cleaning process, a consistant high quality school cleaning will never be achieved, and our schools will not be nearly as safe as we need them to be.
School Cleaning Quality Control
Quality control means that cleaning and disinfecting tasks are checked to ensure they are done to quality and not missed. The important part here, is that quality control provides feedback to the professional cleaners during cleaning debrief, the cleaners make notes, and improve during next cleaning. Any missed spots are redeemed immediately. Getting a cleaner school is the science of clean, measure and learn to ensure constant improvement, towards mastering consistant high quality results, and there is no way around it.
School Cleaning Checklist & Tips
The school cleaning and disinfecting checklist consist of a detailed list of tasks by school area, and a cleaning schedule.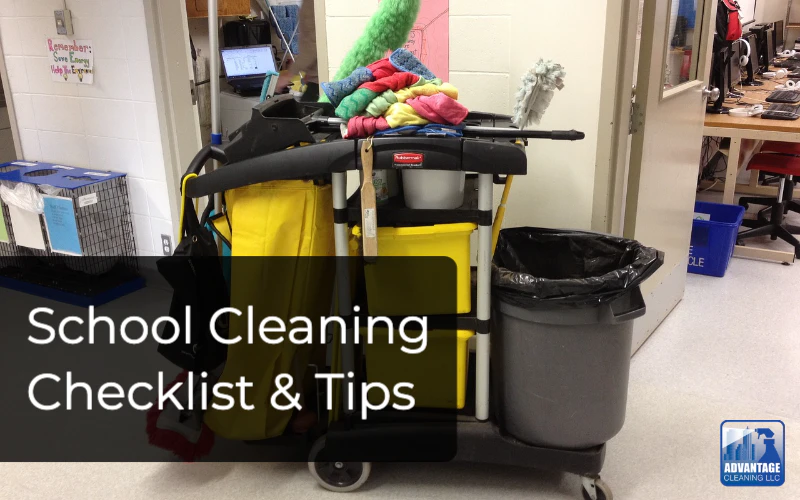 Main Entrance, Hallways and Lobbies
Sweep and/or vacuum full floor area. Spot clean floors and carpet. Walk off mats are to be vacuumed and spot cleaned to remove dirt, gum, debris, paper, etc.
During inclement weather, lay out floor mats provided by the client in entrance ways and main lobbies. Clean and store mats when no longer required, as needed.
Clean, disinfect and polish doorknobs, push bars, kick plates, railings, seats, elevator doors, and other bright metal surfaces.
Damp mop all hard and resilient floors.
Clean both sides of the entrance door glass and glass surrounding entrance doors.
Clean and disinfect drinking fountains including the outside and remove encrustation from the drain screen and bubbler.
Empty waste baskets and remove trash to designated disposal areas.
Remove any clutter or leftover materials from common areas and hallways.
Dust the tops of lockers.
Spot clean walls and doors to remove all marks, and dust surfaces within 84″ of the floor.
Classrooms And Teachers Offices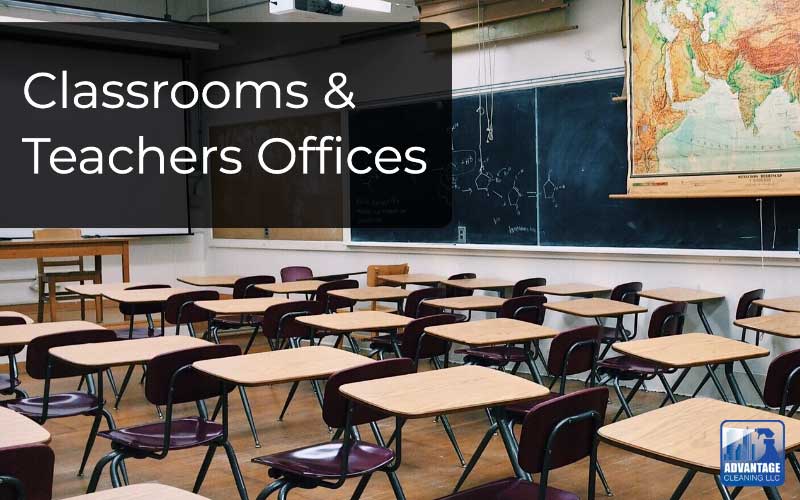 Empty waste baskets and remove trash to designated disposal area. Replace plastic liners as necessary.
Dust every horizontal surface up to 70 inches high to remove dust (desks, chairs, etc). Computers, printers, monitors, and working papers shall not be moved or disturbed.
Clean wash basins. Supply paper towels and refill liquid hand soap where dispensers are provided.
Clean surfaces, including tables, floors, and door handles, shall be disinfected daily.
Thoroughly dust mop bare floors and/or vacuum carpeted areas using vacuum cleaners equipped with brushes or beater bars, and having attachments to access all areas. Move light furniture as necessary.
Report any security problems and breaches or any perceived threats or burglaries to security officer or to property manager.
Clean all drinking fountains and water coolers, including outside areas, to remove all encrustation from the drain screen and bubbler.
Materials in recycling containers shall be removed, if provided, and placed in the designated area for removal by others. Recyclable materials shall not be mixed with trash.
Thoroughly dust the vertical surfaces of all furniture, including chair rungs, table legs, knee wells, etc., including air conditioning grills along walls.
Damp mop all hard floors
Spot clean walls within 84″ of the floor to remove all spots, stains and smudges.
Dust exterior off light fixtures.
High dusting shall be performed to remove dust from high ledges, sills, moldings, picture frames, etc.
School Restrooms
DAILY / AS NEEDED
Sweep and wet mop or scrub floor with a cleanser-disinfectant. Surfaces shall be dry and the corners clean.
Clean, disinfect and polish all surfaces of fixtures, including toilets, urinals, wash basins, commodes, etc. All plumbing fixtures and brightwork shall be wiped clean.
Clean and polish all mirrors and glass to remove all stains, streaks and smudges.
Spot clean doors, walls and partitions to remove dirt, dust and stains.
Wipe clean all dispensers and replenish as necessary, including liquid hand soap, disinfectant, toilet tissue, feminine supplies, paper towels and seat covers.
Empty trash cans and replace liners.
Damp mop all hard and resilient floors.
Empty, clean and disinfect all receptacles used for the collection of solid waste. Replace liners as necessary.
Report items in need of repair, e.g., inoperative lights, broken windows and doors, leaking sinks, urinals, commodes, broken fixtures, etc.
MONTHLY
Damp wipe and disinfect the full surface areas of all rest room walls, doors, windows, counter tops, window frames, sills, vents and waste paper receptacles, mirrors and glass, etc.
To prevent stains and encrustation and any resulting odor from forming in the water closets and urinals, disinfectant germicidal cleaner shall be used every thirty days.
QUARTERLY
Dust light fixture exteriors.
ANNUALLY
All traps and floor drains shall be treated with a bacterial type chemical until the traps are completely free of odor.
Cafeteria & Break Rooms
Kitchen
DAILY
Sweep and mop and/or vacuum full floor areas.
Clean the horizontal surfaces of all furniture.
Thoroughly clean and disinfect all counter tops including coffee/food areas and vending machines.
Damp mop all hard and resilient flooring.
Clean glass on doors, partitions, etc.
Spot clean wall surfaces within 70″ of the floor.
Drinking Fountains
DAILY
Clean and disinfect all drinking fountains, including the exterior sides. Scrape off all encrustation and mineral deposits from the drain screen.
Report items in need of repair to the property manager.
Auditorium
WEEKLY
Sweep the floors in the seating areas; vacuum all carpeted areas.
Use the blower for any hidden debris.
FOOD SAFETY RESOURCES: FDA article on food safety during emergences | CDC food safety guides
Important School Cleaning Policies
Color-coded cloth and mops should be used to avoid cross contamination between classrooms, restrooms
ONLY use EPA List N approved disinfectants, they are tested and documented to work.
HEPA filters on all vacuum cleaners
Restroom ventilation should be running constantly
Is Ventilation Sufficient?
HVAC's should be checked and maintained regularly to ensure they provide sufficient ventilation in classrooms, restrooms, and all common areas. Poorly maintained HVAC equipment will reduce its effectiveness which will increase utility costs.
However, good maintenance will prevent the need for repair or to replace equipment earlier than necessary; a costly problem you can prevent.
Proper ventilation is critical to remove dirt, germs, bacteria and chemicals from the air and keeping it as clean as possible. Therefore it will reduce risk of airborne viruses, supporting good health and safety for your students, staff and visitors.
Make sure to replace or clean air filters throughout the building frequently by including this in your cleaning schedule.
Source: CDC Ventilation in Your School
Are You Looking For School Janitorial Services To Help With Your School Cleaning?
At Advantage Cleaning we provide professional school cleaning and disinfecting for grade school and universities in New York Metropolitan area. And our continuous "Cleaning Process Improvement Plan" is what put "consistant high quality" in our school janitorial services.
We have a cleaning system for schools which is always customized for your school facilities. It's digital, accessible via every smartphone for everyone of our team members and quality inspector. We follow our cleaning system relentlessly to the joy and satisfaction of all of our clients.
So if consistant high quality cleaning and disinfecting is what you want, we would love to drop by and tell you how it works.
A Professional Cleaning Company for Schools
A Complete professional cleaning team and quality inspector
A digital cleaning system with quality feedback that ensures continuous quality improvement
We are a local New York cleaning company with motivated, friendly, highly trained cleaning professionals, and ware our uniform with pride.
We have been cleaning New York's schools and big attractions since 2010, and experience in handling large facilities with extremely high foot traffic.
We are recognized for high quality cleaning, and we have the testimonials to prove it.
Need Help With School Cleaning?
We deliver confidence and raving reviews to our clients through consistent high-quality cleaning.