What is a Medical Office Cleaning Checklist?
It's a list of professional cleaning and maintenance tasks that, when followed, bring your facility up to a level of cleanliness and ready to begin accepting patients. A medical office cleaning checklist is designed to be easy to follow with simplified task descriptions and in a step-by-step order so that anyone trained to do these tasks can run through them without having to memorize the order.
Why is a Medical Office Cleaning Checklist Important?
It helps you and your staff or commercial cleaning service provider follow a standard operating procedure that can be measured for the accuracy of the work done, the effectiveness of the overall goal of keeping your medical office clean and can be easily modified, when needed, to improve your process for best results. Any medical office will usually have at least one unique circumstance and your cleaning process should be customized to accommodate your needs.
How to use a Medical Office Cleaning Checklist?
Your cleaning staff should be fully trained in handling medical waste, infectious waste materials and in proper sanitization methods based on government standards. Here are some resources: Healthcare-Associated Infections (HAIs) Bloodborne pathogens
Your cleaning staff should be trained to follow your medical office cleaning checklist, where to find it at all times and to document when it's been completed and by whom.
Your medical office cleaning checklist should be performed daily if not more frequently depending on the patient volume and health risk levels.
Your management team should routinely review the completion documentation and perform quality control checks.
If you use your medical office cleaning checklist this way you will
Prevent the spread of germs
Provide a safer, healthier environment for patients and staff
Give a positive impression to visitors
Keep a reputation of professionalism
Have a consistent level of cleanliness that is much easier to maintain.
Reduce your stress with a stable, manageable work environment for the long term.
Things to Consider Before You Start
Cleaning products
You want to procure hospital-grade cleaning solutions with high spectrum kill rates. Will you use a one- or two-step cleaner and disinfectant? One step will clean and disinfect, while a two step solution will require that you clean first and then disinfect.
Personal protective equipment (PPE)
When working in healthcare cleaning, goggles, latex gloves and protective clothing are the every-day basics, as are disinfectants and thick trash bags. The key is knowing how to properly disinfect while exercising caution in a medical environment.
Time and cost budget
Budget for costs of cleaning supplies and labor along with time for cleaning services to be done properly.
Types of medical facilities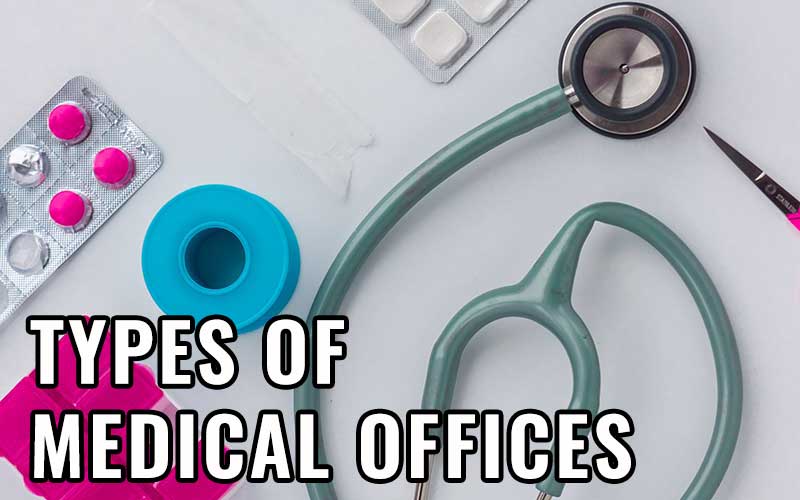 There are certain things to consider during medical office cleaning based on the type of services provided in that office. Here's a few examples:
Medical Doctor
Patients are generally visiting because they're not feeling well so make sure to spend more time cleaning and do a very thorough job.
Oncologist
Because of the health condition of patients visiting this office, it's important to focus on keeping a sanitized office to help protect more vulnerable patients.
Pediatrician
In general, children touch everything they can get their hands on, don't wash their hands often enough, stick their fingers in their mouth (and noses) and are pretty much germ magnets. Now consider that they have a runny nose and are visiting the doctor to feel better. Don't forget to put extra attention to all surfaces below 5 feet.
Medical Office Cleaning Checklist
Patient Room or Examination Room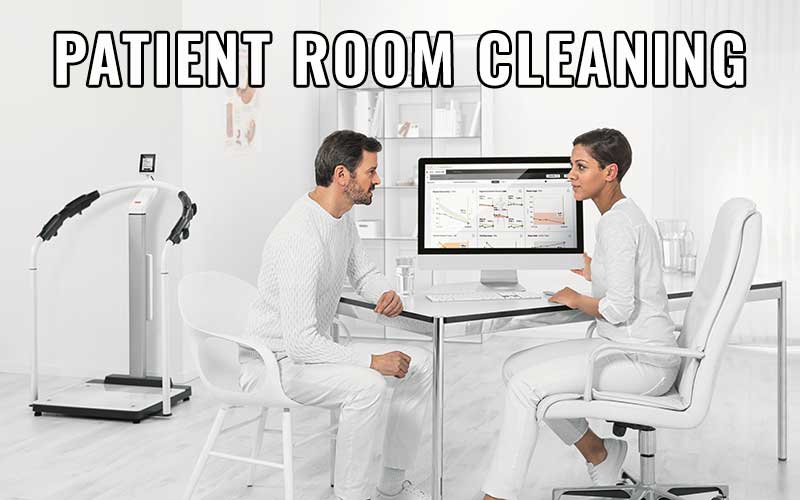 Linens – Remove used towels, garments and linens, put into medical disposal bags and place in an area designated for laundry cleaning pickup.
Empty Trash – Clean and disinfect all trash receptacles and infectious waste containers, replace liners.
Exam table and chairs – Raise table/chair to clean underneath, remove liner paper to disinfect, let cleaner and disinfectant sit for the appropriate time before wiping.
Sinks and countertops – Dust, wipe, clean and disinfect all surfaces and handles.
Cabinets – Focus on high touch points such as handles and door edges. Use a "broad spectrum" cleaner along with an antibacterial cleaner.
Floors – Vacuum and mop, use cleaner and disinfectant. It's recommended to use microfiber flat mops with disposable pads and to use one microfiber pad per room to avoid cross contamination.
Because cleaners and disinfectants can be harsh on floor finishes, we recommend that you contract a floor maintenance routine to keep your floors looking shiny and new.
Waiting Room
Clean and sanitize door handles, including doors to restrooms, hallways, and examination rooms.
Sweep and mop hard flooring using healthy methods and tools.
Strip and wax floors at least once per year.
Clean and disinfect tables and chairs, which should include getting the upholstery cleaned regularly.
Clean the counter, check-in area, pens, and tablets with a disinfecting cleaning product.
Sanitize children's toys and books.
Switch out newspapers and magazines frequently.
Wipe down dusty surfaces using protocols that reduce allergens.
Because cleaners and disinfectants can be harsh on floor finishes, we recommend that you contract a floor maintenance routine to keep your floors looking shiny and new.
Restrooms
Sweep and wet mop or scrub floor with a cleanser-disinfectant.
Clean, disinfect and polish all surfaces of fixtures, including toilets, urinals, wash basins, commodes, etc.
Clean and polish all mirrors and glass to remove all stains, streaks and smudges.
Spot clean doors, walls and partitions to remove dirt, dust and stains.
Wipe clean all dispensers and replenish as necessary, including liquid hand soap, disinfectant, toilet tissue, feminine supplies, paper towels and seat covers.
Empty trash cans and replace liners.
Damp mop all hard and resilient floors.
Empty, clean and disinfect all receptacles used for the collection of solid waste. Replace liners as necessary.
Offices
Dust, clean wipe and disinfect telephones, door handles, tables, desks
Sweep floor, vacuum carpets, mop and disinfect floors.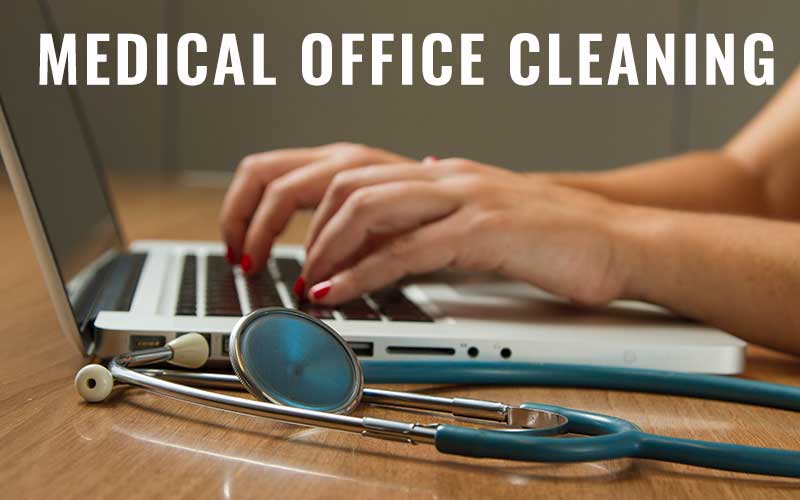 Hallways
Dust and wipe walls, baseboards, floors, doors, door handles and light switches
Disinfect all high touch surfaces like door handles and light switches
By covering everything on this list, you will help to keep your patients healthier and safer. After all, they trust a medical practice to take good care of them
Maintaining Cleanliness
Following your medical office cleaning checklist daily will keep cleaning from being a struggle or daunting task, however, if everyone follows these next steps during the workday, daily cleaning will be even easier and faster.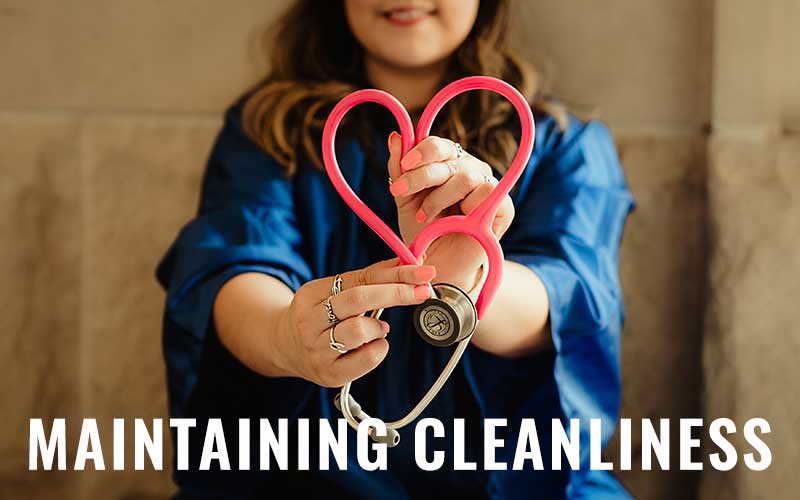 Disposing of items in the correct containers. Designate and use appropriate containers and disinfect areas that come in contact with biohazards. Put used gloves in correct infectious waste containers.
Wash your hands often. Washing hands before putting on gloves, after each patient and definitely before lunch is strongly advised.
Checking the restrooms. Don't let germs live during the day and spread into other rooms while waiting for the daily cleaning staff. Add disinfectant germicidal solution to the toilets during the day.
Clean common touched surfaces. Clean doorknobs, equipment buttons, light switches, and exam tables. Have easy to reach disinfectants strategically placed throughout the building.
Keep common areas clean. Assign staff members who are stationed closest to a common area to give an hourly check up. Common areas such as waiting room, break room, kitchen or locker room, should be tidy, organized and disinfected often.
Get Started
This commercial cleaning checklist is a fairly good breakdown of what you need to do daily and now you can start implementing. It is common for medical offices to contract with a professional cleaning and maintenance company to assist in this work on a daily or weekly basis. If you would like help with cleaning your medical office, request a free onsite visit and quote here.